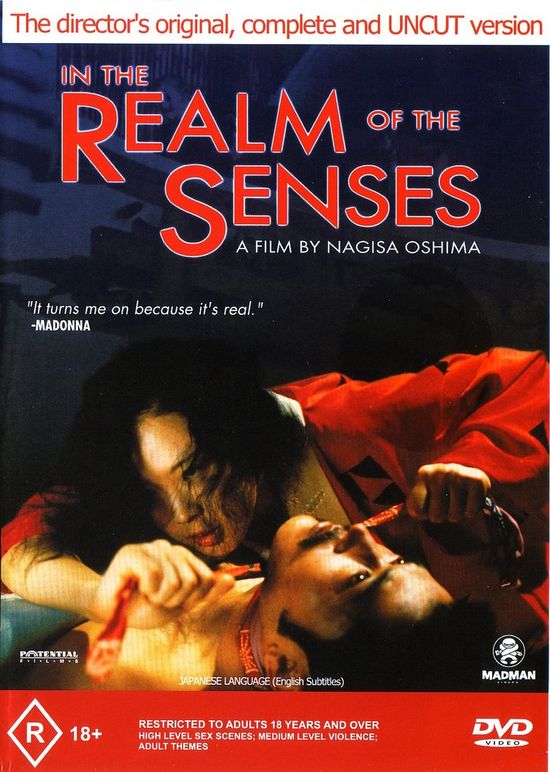 Year: 1976
Duration: 01:42:26
Directed by:  Nagisa Ôshima
Actors: Tatsuya Fuji, Eiko Matsuda and Aoi Nakajima
Language: Japanese (English Subtitles)

Country: Japan | France

Also known as: Ai no korîda; El imperio de los sentidos; In the Realm of the Senses; O Império dos Sentidos; Sinnenas rike; Ai no corrida; Ai no corrida 2000; Aistien valtakunta; Az érzékek birodalma; Carstvo cula; Ecco l'impero dei sensi; Empire of the Senses; I aftokratoria ton aisthiseon; I sansernes vold; Im Reich der Sinne; Imperium zmyslów; L'empire des sens; L'impero dei sensi); Love's Bullfight; Sansenes rike; The Realm of the Senses; Tutku imparatorlugu
Description: Perhaps one of the most erotic and at the same time inconceivably profound dramas of all-consuming, beyond the control passion between a young Japanese woman Sadoi (Tatsuya Fuji, who also starred in Empire of Passion and Female Market: Imprisonment) and her master, whom she kills at the end, cutting off his penis. Most interesting is that the film is based on real events. Four days went Garden with penis cut off through the streets of Tokyo, where she was arrested, she beamed with happiness. Her trial has shaken the whole of Japan, it showed leniency, and she was acquitted, a strange thing popularity. It happened in 1936 in a year.
Review: The film Outrageous Japanese filmmaker Nagisa Oshima's "Ai no korîda", which was held in the European theaters called "In the Realm of the Senses" really shocking, and not even just erotic, and one hundred per cent explicit scenes of a sexual nature, submission, if you will, in all its splendor .
The film has attracted particular attention to those that relate to her not as the Japanese film "for adults" and for the film, even pornographic in its kind, containing the artistic value in the drop-down philosophical reflection, sensual, emotional and dramatic framework.
Screenshots:
Download: