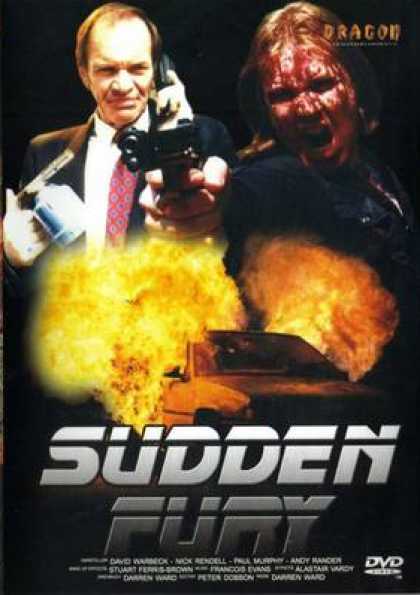 Year: 1997
Duration: 01:43:39
Directed by: Darren Ward
Actors: Chris Barfoot, Antony Dobson, Adam Light
Language: English
Country: UK
Also known as: Furia gore
Description: So what do you get here, you ask – well first and foremost you get an incredible amount of bloodshed. Lots and lots of especially gun violence in the vein of the opening of the amazing swedish movie War Dog.
Tarantino started a fad. A fad of suit and tie wearing, gun toting modern day gangsters. SUDDEN FURY fits in that mold. FURY is a low budget, British version of a Tarantino flick. But DAMN, this movie is fun!!!
The story is really nothing new. Two rival gangs fighting over nose-candy. I won't go into deep story details because, well frankly, the story (although well written) is NOT the reason one should view this movie.
The cast is full of twenty-something, baby-faced gangsters. Which I imagine is a direct result of low budget constraints on director DARREN WARD. The character of Jimmy played by ANDY RANGER is very convincing as the right-hand man of gang leader John Randall. The performance of PAUL MURPHY as John Randall is by far the weakest of the movie. It is hard to look and act tough when you look and sound like Mr. Bean. Then there is super badass, gun for hire, Walker (NICK RENDELL). RENDELL was extremely stiff at times and just did not look the part. This viewer believes that RENDELL was cast as Walker because he sports long hair, pulled back into a ponytail. C'mon!!! That makes you look tough!!!!!! Right???? DAVID WARBECK as rival gang leader, Harris, steals the show!!!!!! WARBECK (unlike the rest of the cast) actually looks the right age for the part. The character of Harris is a relentless, morbid maniac with a severe cough and asthma problem. WARBECK is nothing short of brilliant as Harris!!! Fans of Italian horror may recognize WARBECK from LUCIO FULCI's , THE BEYOND!
Director/Writer/Producer, DARREN WARD showed me that he has balls!!!! He is not afraid to take chances!!!!! One particular scene surprised the fuck out of me!! The character of Randall is on a shooting spree. He walks up to two adults and shoots them in front of their child. He then turns the gun towards the little frightened boy. He keeps the gun pointed at the child while the child stares back at Randall with puppy dog eyes. Randall then lowers his gun. Then OUT OF FREAKIN NOWHERE, shoots the kid. The boy falls to the ground and begins to crawl towards his dead mother's hand. Just as he is about to grab a hold of his mother's hand, Randall shoots the kid in the back. Very disturbing and effective.
The main reason that one should watch this movie is the non-stop violence and superb explosions, special effects and squib work. I have not seen a low budget, independent movie with better squib work. Blood flies all over the screen. The violence and action are almost non-stop!!! They even set a man on fire, had a car chase, wrecked cars and blew-up interiors!
The encoding is flawless. The master does take the occasional hit of dropout, but that is to be expected. The score is nothing spectacular. And the editing is very slick. The DVD extra features include, DELETED SCENES, OUTTAKES, TRAILER, ART GALLERY and STILLS GALLERY.
Overall, SUDDEN FURY jumps in your face with violence, grabs you by the balls and drags you around. What a fun movie!!!! Not too many Tarantino esque movies work, especially at a low budget. But SUDDEN FURY has set a new standard when it comes to gun play and violence in the independent scene. Pick this up!!!
Screenshots:
Download: