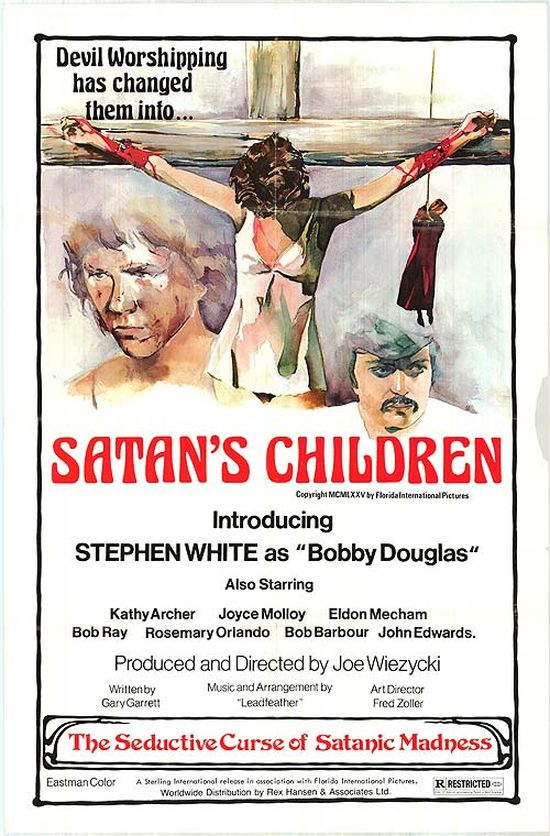 Year: 1975
Duration: 01:23:43
Directed by: Joe Wiezycki
Actors: Stephen White, Eldon Mecham, Joyce Molloy, Kathleen Marie Archer
Language: English
Country: USA
Also known as:
Description: Teenager Bobby lives with his stepfather and horny stepsister, who makes his life miserable. One night, Bobby does not stand up and runs away from home. He was beaten and raped by a gang of bikers. Bullies throw the unconscious Bobby near the habitat of Satan worshipers. By the orders of their leader Sherry Satanists bring Bobby to his cause, and in sense.
Sherry imbued with sympathy for the guy, but the other members of the sect do not share her views, believing that Bobby is not suited for their faith. Sherry is trying to violently suppress the irritation of her comrades. After that appears the head of the sect and punishes the rebellious Sherry. Bobby decides to take the situation in his own hands and begins to kill the bikers, one by one …
Review: Late 60's and early 70's marked the explosion of love for all mystical, evil forces, and suspicious cults. This film – one of the huge number of their own kind, in fact, a continuation of the "Asylum of Satan", which was released in 1972.
The poor boy is a typical inhabitant of LA: days sunning near his pool, listening to music and smoking marijuana, for which he occasionally gets problems from his stepfather. And all seems to be fine, only if not his sister-nympho, which really wants him. But emotionally unstable child runs away from home. Met in the typical American diner with a man who had invited him to walk to his car, fully packed with suspicious persons. There Bobby was raped and thrown near the habitat of Satanists.
Fans of the cult look hundred percent black hippie playing the ball in the hot California sun. There is a girl named Sherry, who suddenly (as always) imbued with sympathy for the guy.
Of course, now the movie like these with it's plot seem to be at least stupid and inappropriate. But things are changing, and techniques relevant to the '70s, looks quite ridiculous in our days. And because of this the picture has a huge plus – you can laugh, by watching it
Screenshots:
Download: