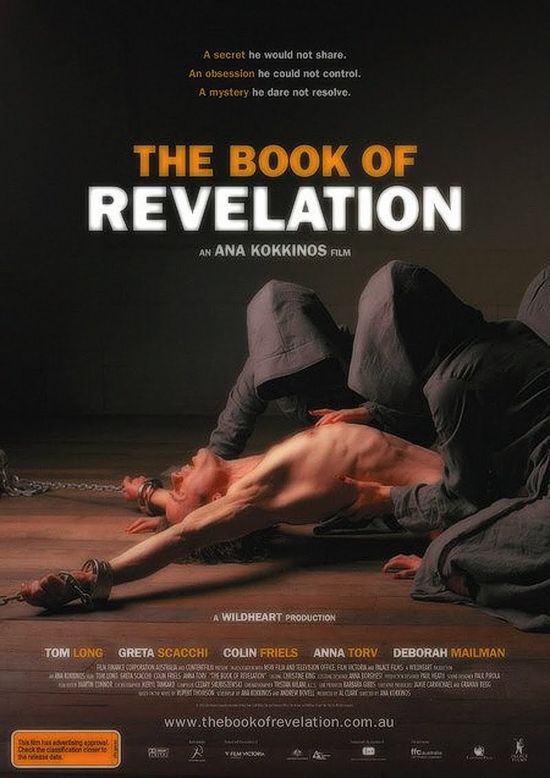 Year: 2006
Duration: 01:55:08
Directed by: Ana Kokkinos
Actors: Tom Long, Greta Scacchi and Colin Friels
Language: English
Country: Australia
Also known as: To vivlio tis apokalypsis, El libro de las revelaciones, O Livro das Revelaçõe
Description: This Australian made rape/revenge thriller comes with a twist – the victim is a man, and the rapists are women. Daniel is a young and successful dancer, whose career is better than ever. Once, during a rehearsal of the new show, Daniel goes out for cigarettes and disappears … for 12 days. He returned home quickly, but a completely broken man. It turns out that Daniel was the victim of abduction – a prisoner of the three women, who hide their faces behind masks.
When he was brought to a strange house, chained to the floor with chains and handcuffs, he becomes a victim of several rapes. Got loose and almost bereft of reason, he decides at any cost to find these women and revenge them.
Review: First impressive dancing, plastic, music … The soundtrack is great! Then suddenly disappears somewhere protagonist. He leaves for cigarettes for the girl, and it turns out both matches in the famous movie, only the effects here are not funny, and sad.
Returns in 12 days, and we with him begin to search these mysterious kidnappers in turning upside down of his life, right in front of an increasingly miserable. There are details of these were women. It turns out they wanted sex.
Then the next scenes of rape , which I did not watch. Missed. For the traditionally minded sexuals can report that in the rape scenes female-dominated, and the man is struggling.
Screenshots:
Download: