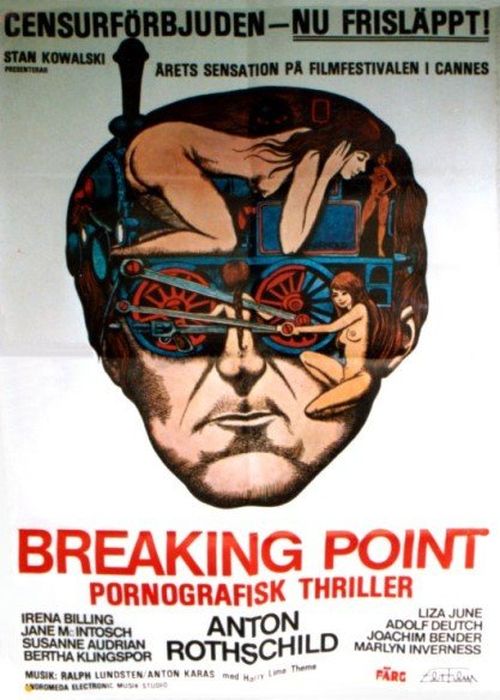 Year: 1975
Duration: 01:26:55
Directed by: Bo Arne Vibenius
Actors: Andreas Bellis, Irena Billing, Barbara Scott, Per-Axel Arosenius, Jane McIntosch
Language: English
Country: Sweden
Also known as: Pornografisk thriller, Breaking Point
Description: Andreas Bellis plays Bob Bellings, a seemingly normal enough guy. In his mind, every interaction he has with a woman is charged with erotic overtones, basically he thinks that every woman he meets wants to have sex with him. Sounds like just about every man i know! Unfortunately, most of these encounters end in murder and mayhem. Which is where our hero differs from us normal sickos [i can only speak for myself here!] He's a bit handy with a gun, and is quite keen on model railways. As a reviewer on the imdb notes, most of his misdemeanors take place during work time, which is highly commendable.
"Breaking Point" is a truly demented porno thriller made by Bo Arne Vibenius of "Thriller:A Cruel Picture" fame.
The film " Breaking Point " was made in 1975 by the Swedish director Bo Arne Vibeniusom , filmography which has only three paintings , the most famous of which was the " Thriller : A Cruel film." Like " Thriller : A Cruel Film", " Breaking Point " is defined by its creator as pornotriller but deliberate grayndhausnost most scenes failed to outshine and highly dramatic line to psychological study of the protagonist because the story unfolds before us the appearance of a maniac as such , and disclosed Bob Bellingsa are very slowly to the audience and notes syuyurealizma , gives this picture a very unusual color.
Andreas Bellis as Bob looks really organically and convincingly , his game is very polished even in the most risky or unusual scenes.
The camera work in the film masterfully injects suspense in the film , sometimes getting in the ribbon custom camera angles and squashing the viewer plenty of frankly pornographic scenes based rather asexual , and scenes of violence filed in several grotesquely .
Soundtrack by composer Ralph Lundstena perfectly emphasized the bleakness of the film , sounding anxious throughout it .
I recommend this film , unfortunately remains little known to all fans of erotic thrillers and horror grayndhausnyh and hopefully you will not be disappointed .
Screenshots:
Download: