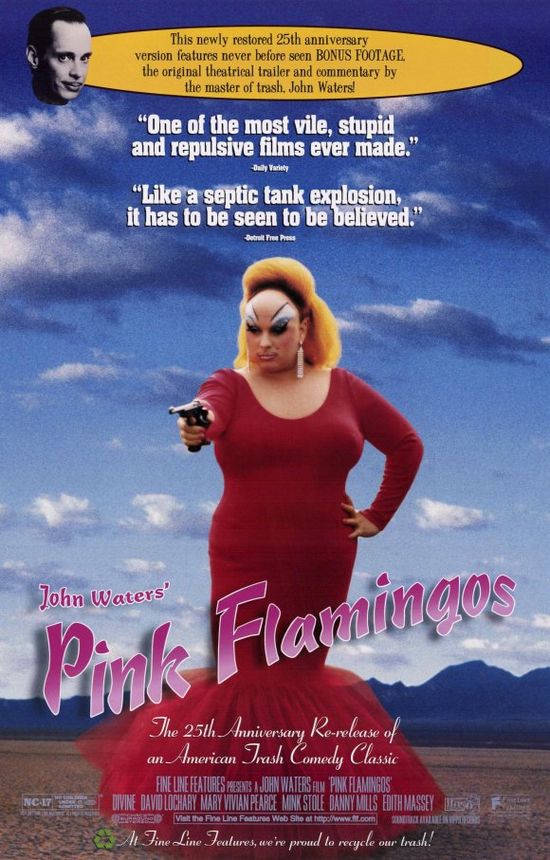 Year: 1972
Duration: 01:47:07
Directed by:  John Waters
Actors: Divine, David Lochary and Mary Vivian Pearce
Language: English
Country: USA
Also known as: Fenicotteri rosa, Rózsaszín flamingók, Ruzicasti flamingosi
Description: Eerie, grotesque Babs Johnson lives in trailer park with her handicapped son Krekersom and disgusting Mom Edie, obsessed on eggs. All agree that Babs – the "dirtiest thing in the world", her status as the envy of child trafficking in the black market. They take a vow that they would still "dirtier" than their opponent. Competition begins, including arson, bestiality, cannibalism, castration and coprophagia …
Review:
A trashy, sleazy classic by cult director John Waters, "Pink Flamingos" will offend many viewers, and delight others with its brazen and lurid transgression.
The rather large and grotesque Babs Johnson lives in trailer park with her handicapped, chicken-fucking son and senile mother, who is obsessed with eggs. Babs' family is quite vulgar and dirty, but can they claim the title of The Filthiest People Alive? The competition to win this filthy title has Babs' family clash with younger, wealthier and villainous couple, Raymond and Connie Marble, who own and operate an illegal baby farm. It's a tough race, with plenty of outrageous laughs to come thanks to arson, bestiality, cannibalism, castration and coprophagia…
As a celebration of transgression, "Pink Flamingos" shocked many audiences, not only in its first years after release, but even to this day. While the hardest of viewers will stomach most scenes, they may surrender when it comes to the scene of actor Divine eating a real freshly laid piece of dog shit. Waters was certainly ahead of his time in terms of shock value and his exploration of poor taste. If you want to watch this movie, then think hard beforehand, and ask yourself is it worth it? I survived and don't regret it. I have even come to love it like most John Waters fans, but mainstream audiences, I'm not so sure about.
While some accused Waters of peddling cinematic dirt and vulgarity, the film is a triumph in the aesthetics of bad taste. After "Pink Flamingoes" received its premiere in New York in 1973, word of mouth about this film ensured that it ran pretty much continuously at a cinema in the Big Apple for two years. Among the fans was Andy Warhol, who told a visiting Federico Fellini that "Pink Flamingos" was a must-see in New York.
The actors who starred in it, I think, deserve the highest praise, in particular Divine and Edith Massey. They will do anything for their art. The film brilliantly combines comedy and vulgarity and there is a hilarious sense of humour shining through from Waters and his cast.
Screenshots:
Download: