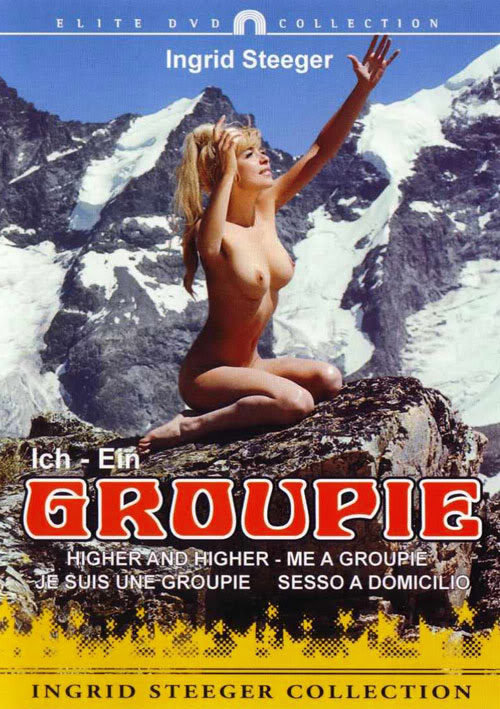 Year: 1970
Duration: 01:14:53
Directed by: Erwin C. Dietrich and Jack Hill
Actors: Ingrid Steeger, Rolf Eden, Vivian Weiss, Li Paelz and Terry Mason
Language: English | German | French | Italian
Country: West Germany | Switzerland
Also known as: "Ich, ein Groupie", Higher and Higher, Arzularin ötesinde, Das Mädchen mit dem Einwegticket, Jag – en groupie, Je suis une groupie, Jûshoku rangyô, Koritsia dipsasmena gia krevvati
Description: Groupie – a girl accompanying bands and musicians performing a whim. Vicki and her friend, liberated blonde dream of becoming groups and romp along with various singers in Germany and Switzerland, at the same time participate in the collective erotic and freaky orgies. Throughout the film, the mood prevails hippie 60s. Drug craze, unfortunately, does not go to them without a trace. In the film, a lot of nude scenes, group sex, and use of soft drugs, and of course a lot of rock music.
Review: The film has much in common with a previous year earlier tape of John Donne "Alice in acid ", but another approach to the subject – more "life " to fully convey the spirit of the time: freedom, emancipation (which have not yet begun to associate with license ) attempt to express themselves through the negation of society in which you live. In fact, the scene in the film , but he , by and large do not need , because almost atmospheric documentary as the life of a girl named Vicky .
The director does not tell the audience about her past nor , nor about her thoughts about the future , because it does not matter , because the character Ingrid Steger like a butterfly lives only one day. For her, the main thing that happens to her now . And "now" – this is just another rock band , the next portion of any hallucinogen , and the final chord in the form of rampant merger with another "like" guy. But here's the strange thing – the repulsive effect of all this does not produce. Perhaps due to the fact that young people at the time did not wondered where can bear "acid river ." Especially knew nothing about " the plague of the 20th century ", because AIDS is first described by the Centers for Disease Control and Prevention United States only in 1981.
Of course, the " ignorance is no excuse of responsibility," so the work of Erwin Dietrich and Jack Hill recalls completely taken much later scandalous tape Larry Clark , because apart from stating the phenomenon to which in different years of his life, a person is treated differently ( as is normally ) , directors are forced to think about something . If the movie plot and not particularly noticeable , the finale – is more than decent . He is not revelatory , not prohibitive – it humanly wise, because any drug – it is a product primarily of plant origin, for which need soil (dirt, ashes , ashes ) . This is then treated with an appropriate way, it will make a person "fly" , but not fly far and high – just before a passing car. While the drug is not obscured part of the brain tends much further – the mountains, the clouds …
Screenshots:
Download: