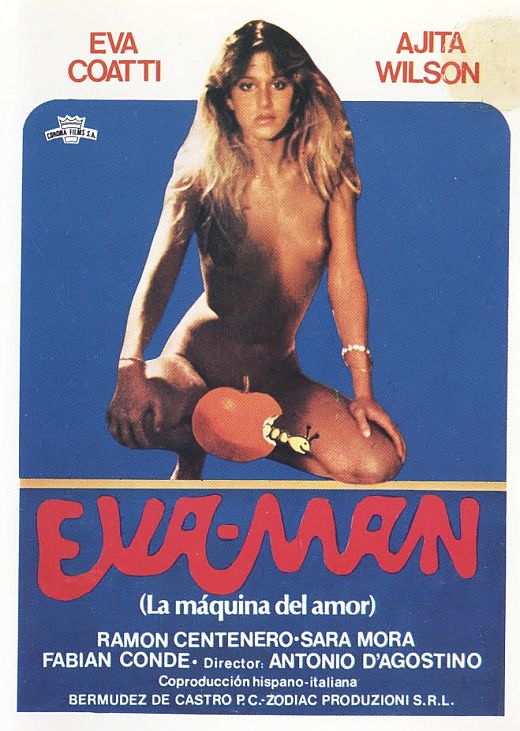 Year: 1980
Duration: 01:15:13
Directed by:  Antonio D'Agostino

Actors:  Eva Robin's, Ajita Wilson, Ramon Centenero

Language:  Italian
Country:  Spain | Italy

Also known as: Evaman, la máquina del amor
Description:Beautiful Eva, hermaphrodite from birth, with clear signs of both sexes, under the strict guidance of his uncle, Professor, masters the secrets of sexual energy, which give the possibility of a Superman. But an angry gangster steals it, with the help of a doctor-villain to move into the body of eve and take over the world. He tries to prevent his rival, who is going to deprive the girl masculinity and thus not to let it turn into Superman…
Review: Two erotic- adventure comedy about the adventures of a character komiksopodobnogo "Eve -man " – this sexual escapades Eve / Roberto screen completed , and appeared in the Italian film actress Eva Robins , who was shot by Andrei Konchalovsky and Dario Argento (Squillo and Inferno), with variable success has performed on stage and TV. But still had to start with a simple seksploteyshen that quite fit into blossomed in the late 70 's – early 80's Spanish " category « S ». The first film of the Novels of " Eve – Maine " though filming Italian Antonio d'Agostino , but carried Pyrenees producing company.
Delusional story of the comic book could well be the envy of the creators of Japanese hentai, but still left with the impression that the authors will give him (and a little more budget ), they heaped up to twice the size of the absurd. And so, just a professor Pissindzher creates from his niece's Eve, which managed to be born a hermaphrodite , superman. According to his theory, the union of male and female at the correct release of sexual energy , should pave the way for a huge force in the capture of which androgyne acquire incredible power.
This force tends to take over a mafioso who orders his two subordinates to steal Eve to be his personal physician transplanted brain (!) In the body of the androgyne . However, because these characters are most reminiscent of the unforgettable Dzhuliko Banditto and De la Voro Gangsteritto of " Captain Vrungelja ", then adventure on their ass they get quite cartoonish .
Screenshots:
Download: