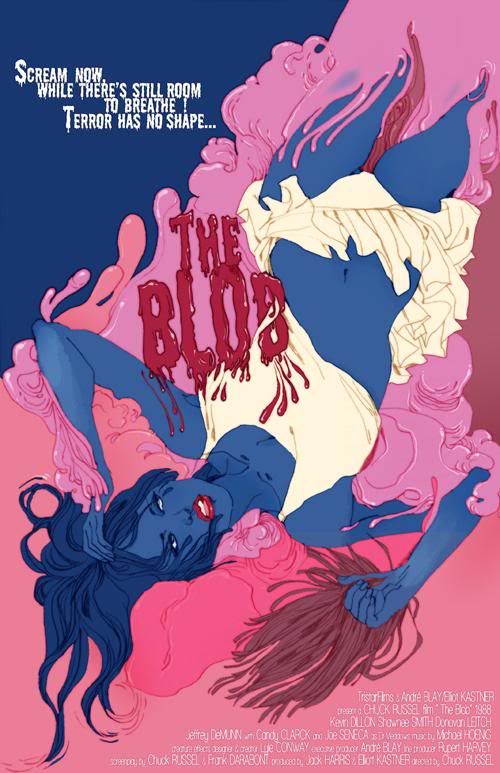 Year: 1988
Duration: 01:31:05
Directed by: Chuck Russell
Actors: Shawnee Smith, Donovan Leitch, Kevin Dillon
Language: English
Country: USA
Also known as: A Bolha Assassina, Blob – Il fluido che uccide, Der Blob, Le blob
Description: Fatal meteorite brought to the earth some scary stuff. Liquid plasma consumes everything on its way, and the more victims is in its bottomless depths, the more this becomes a clot of black energy that carries death. Residents of a small American town do not believe in the devil's terrifying tales of substance. Meanwhile, a bloody mass is approaching its edge …
Review:   This film Blob is the famous director Chuck Russell (known audience, especially in the movie "The Mask" – Chuck Russell has directed this famous comedy) really made qualitatively. First of all, the original plot. Bunch pink-red mass terrorizes a small American town, enjoys people for breakfast, lunch and dinner. A hungry alien jelly. I think many people after watching this film became suspicious squint at the jars of jam.
And even though the picture is rather primitive (I'm about the emotions of heroes, the actors' performances), it is still enjoyable to watch. In terms of horror – there is no failure. You can imagine that somehow you have to fall from the ceiling, a huge pile of deadly jelly that looks like a foam of jam? And the heroes of the film had to experience it for yourself. More pleased by the fact that the main characters in the film a bit, and in the end have to fight the evil guy and the girl.
Blob itself – a phenomenal thing. Huge "souffle" from space, from which every now and then grow some "jelly" tentacles. On special effects worked hard.
Simple, easy story tapes + qualitatively worked Effects = success. And that success is justified. In any case, the movie was decent and most importantly – in the style of the Chuck Russell.
Screenshots:
Download: