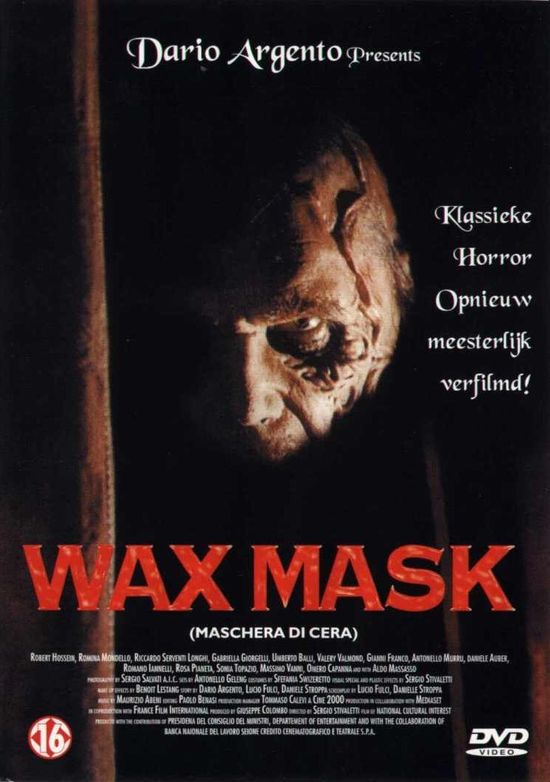 Year: 1997
Duration: 01:35:00
Directed by: Sergio Stivaletti
Actors: Robert Hossein, Romina Mondello, Riccardo Serventi Longhi
Language: Italian | English Subtitles

Country: Italy | France

Also known as: La máscara de cera, Μουσείο Κέρινων Ομοιωμάτων, A Máscara de Cera, Gaston Leroux's The Wax Mask, Le masque de cire, Masca de ceara, Mouseio kerinon omoiomaton, Vahanaamio, Wax Mask
Description: Paris, 1900: a little girl Sonia witnesses a murder of her parents. Murder was committed by a man with steel hands.
Years later, in Rome, Sonia met with Boris Volkov – the owner of a wax museum. She accidentally discovers that the museum has a secret research laboratory, where, under the guidance of Volkov strange experiments try to revitalize the wax figures.
Review: Why wax figures are so popular? And even to this day people visit the exhibition to see these man-made human (and not all) of the body, frozen in various poses. Maybe the thing they are realistic, you look, and it seems to you a real person. Each of the figures can tell their own story. Perhaps even a very, very terrible. Thus, the "Wax Mask".
Another interesting story about the wax museum, which exhibits hide their terrible secret. She filmed the novel by Gaston Leroux, and generally its plot resembles the picture "Secret Wax Museum" (1933) and "Wax Museum" (1953). Brief background, telling us of the brutal murder of four family some mysterious man with an iron hand. Then, the event moved to the present – in the city is a wax museum, people disappear. Then – according to the canons of the genre. But the unusual story makes participation in writing the script of people like Lucio Fulci and Dario Argento. And as a result – giving greater mystery stories, assigning killer almost the status of the shadows, invisible moving through the streets of the city and out on new victims. Direction, though a bit pumped up. It would be much better if the staging himself took Argento and the film is completely gone in the genre of "Jalla", because the prerequisites for this were available, and the audience would have more liking. And so – just a good detective thriller, with its mysteries and "monsters." Yes, and a good, nice and catchy melody oh how he is missing.
As a detective – a film gorgeous. Let not that complicated, as desired, but in any case, guess who's the one with the iron hand of a murderer from the first time it will be very, very difficult (I think the answer is obvious, but one small detail at the end of may significantly shake the faith in intuition and observation). Progressively developing plot, good operator views, mystery writers throw, a good (but not the masterpiece), the acting, the atmosphere of mystery and even horror – all just goes to a bright and exciting ending. Bright – yes, exciting – completely. But creeps and another "epithet" – at least, suddenly strange. Detective thriller suddenly turns into a kind of science fiction a la "Terminator." I almost jumped on the ground is not. What is unexpected, that is not expected. The benefit of the latest frames are made more in line with the genre and viewing ends on a positive note rather than the reverse. And it's better to shoot Argento.
Screenshots:
Download: