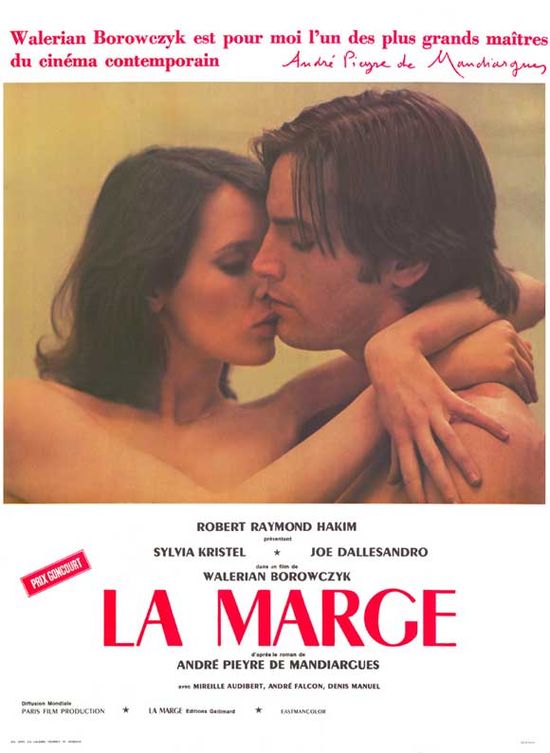 Year: 1976
Duration: 01:31:28 | 01:27:36
Directed by: Walerian Borowczyk
Actors: Sylvia Kristel, Joe Dallesandro, André Falcon, Mireille Audibert
Language: French (Japanese subs) | French (English subs)
Country: France
Also known as: The Margin, The Streetwalker, Il margine
Description: Sigismund, along with his beautiful wife and young son enjoy life on the French Riviera. Once, while on business in Paris, he meets Diana, seductive woman seeking adventure, and carries with it an unforgettable night. The next morning Sigismund receives a letter with a message about suicide of Sergina.
Beside himself with grief, he could not read the letter through, and to escape the horrible reality rushes back into the arms of Diana's sensual. Two days later, he finally picks up the fatal letter to finish reading it.
Probably should have put the name of the film "The Prostitute" differently – for example, "Wayside". While the play on the double meaning here: Diana prostitute, whom he met and had a wonderful night respectable married businessman Sigismondi, is for him a marginal woman living on the margins of society, somewhere in the side. But it does not bother the hero, as he, experiencing a sudden feeling to "professionalkami Love" decides to stay with her in the future. But Diana was not a happy prospect, which ultimately leads to dramatic consequences Sigismondi.
It's hard to believe that Valerian Borovchik, master of fine, ironic, aesthetically style of erotic cinema ("Immoral stories", "beast"), referring to the prose of Andre de Peyra Mandiarga, the famous author of novels frank and inviting popular artists – Sylvia Kristel ("Emmanuelle ") and Joe Dallesandro (American independent films of so-called" factory "Andy Warhol), has created such a contemptible adulterous istoriyku devoid of inspiration and taste. French rights videospravochnik "Akai" considering that the painting was done "on the side of the wretched products." Even more surprising that the producers 'prostitute' were the brothers Raymond and Robert Hakim involved in the emergence of a number of classic films – from "Pepe le Moko" (1937) to "Morning Glory" (1966).
Screenshots:
Download:
La marge 1976 (English version)