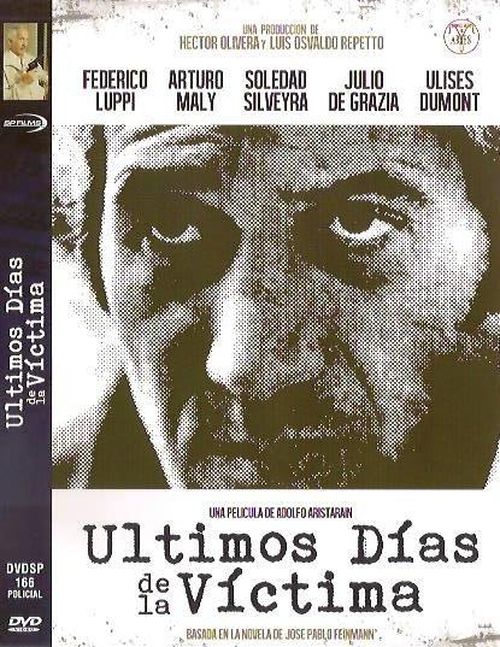 Year: 1982
Duration: 01:34:32
Directed by: Adolfo Aristarain
Actors: Federico Luppi, Soledad Silveyra, Ulises Dumont
Language: Spanish | English subtitles
Country: Argentina
Also known as: Últimos días de la víctima (original title) | Morderens siste dager (Norway)
Description: This is the tale of the last days of a hitman.
His life is brought down as the stress of the job accumulates.
He is on a role of bad decisions over the fact that he is being chased by some vengeful and dangerous men.
Argentina's 1982 official submission for the Oscars, Ultimos Días de la Victima builds the story of a hitman, his relationships, and the twists and turns of two cases seemingly unrelated, which suddenly become too entangled for our antihero's sake. The above review is not exaggerated. A very brilliant thriller
Federico Luppi, who plays lead character Raul Mendizabal, appears in Cronosand in Cocaine Wars . Ulises Dumont, friend of Mendizabal, had a part in Rage of Honor. Enrique Liporace, liaison between Mendizabal and his contractor, also has parts in Dying God – Fabrice Lambot and Death Knows Your Name . It also features Pablo Rago, of the recent Oscar Winner "El Secreto de Sus Ojos", in a very small role as the son of Mendizabal's love interest of sorts. You can also spot Marcos Woinsky, Deathstalker's sidekick.
It was produced by Aries Cinematografica Argentina, which would strike a year later a deal with Roger Corman's New Concorde to make coproductions in Argentina. Amid fantasy productions as Deathstalker, The Warrior and the Sorceress, or Barbarian Queen, an American remake was shot in Argentina, with a very inferior result:Two To Tango
This movie was available only on VHS, with barely any TV broadcasts. A couple of years ago, it was released on DVD and finally I found it. And it was since then due I upgraded the VHSrip I uploaded some years ago. I also adjusted the subs, made some tiny corrections and I'm updating some of the info related to IMDB and the like. A couple of notes regarding the subtitles:
Monica Galan's character's actually named Vienna. There's a word game about the number of N's that was getting lost in translation, so I renamed it to Viena (which is how Vienna's said in Spanish) to try and preserve the joke best.
Mendoza is a province of Argentina, very popular for its wines.
The Obelisco is a structure located in downtown Buenos Aires. It's quite a symbol, pretty much like the Statue of Liberty for the US.
Screenshots
Download