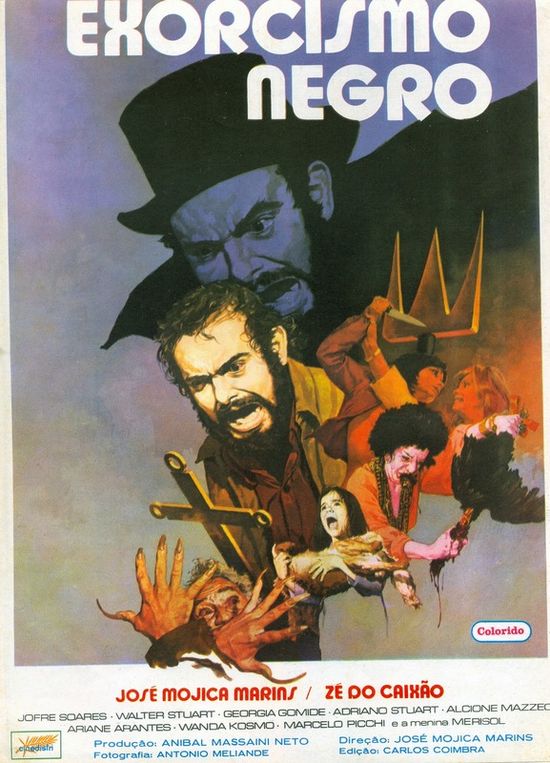 Year: 1974
Duration: 1:34:06
Directed by: José Mojica Marins 
Actors: José Mojica Marins, Agenor Alves, Ariane Arantes
Language: Portuguese (with English subtitles)

Country: Brazil
Also known as: The Bloody Exorcism of Coffin Joe; Exorcisme noir; The Black Exorcism; Black Exorcism of Coffin Joe

Description: A must see "The Exorcist" rip-off, from brazilian cult director José Mojica Marins, here in two roles: himself and his creature, Zé do Caixão/Coffin Joe!!!
Blood, macumba (brazilian black magic), possessed people, naked girls, torture and mutilation in a curious "creator versus creature" battle!
EXORCISMO NEGRO (aka THE BLOODY EXORCISM  OF COFFIN JOE) is one of the rare films in which Brazilian horror master José Mojica Marins had a decent production and enough money to do it right (this only happened again in 2009 with "Embodiment of Evil").
Produced in 1974, during the "Exorcist" craze in the 70's, the film "borrows" several elements of William Friedkin's masterpiece, but replaced the demon Pazuzu by… Coffin Joe! More than that, in a brilliant touch of metalanguage, the plot puts Mojica as the main character, as himself, and fighting his own creature, Coffin Joe (twenty years before Wes Craven do pretty much the same thing in "New Nightmare").
The result is one of the best films of Mojica/Coffin Joe, never released in DVD or blu-ray to this day because of some sort of problem with the producer, and now available for the first time in UNCUT VERSION and subtitled in English!
Screenshots
Download