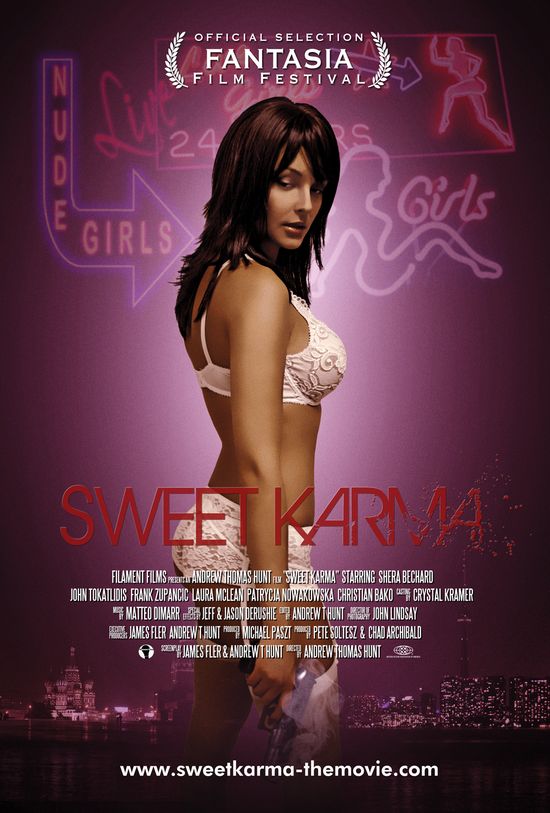 Year: 2009
Duration: 01:26:01
Directed by: Andrew Thomas Hunt
Actors: Shera Bechard, John Tokatlidis, Frank J. Zupancic, Christian Bako, Laura McLean, Patricia Stasiak
Language: English
Country: Canada
Also known as:
Description: Mute Russian girl takes revenge for the death of her sister, who worked in the underground sex industry. She was raped and killed.
Review: Canadian film "Sweet Karma" of revenge mute Russian girl named Karma, for his sister's death, killed by people involved in the underground sex industry, was awarded at film festivals both in their homeland and abroad, which can already be considered a godsend to the director and writer, because Andrew Thomas Hunt – an absolute newcomer to the world of cinema. Whether deserved to achieve it? Let's try to understand.
Unfortunately, Hunt's inexperience and problems with the financial component too visible, to try to look at it through his fingers. This implies the mediocre acting, where even Aurora Vaylantkurt (Karma) is not so expressive, since it does not say a word, shooting, made for the most part in several pavilions, a scenario driven by the development of the plot, regardless of the reality.
Screenshots:
Download: