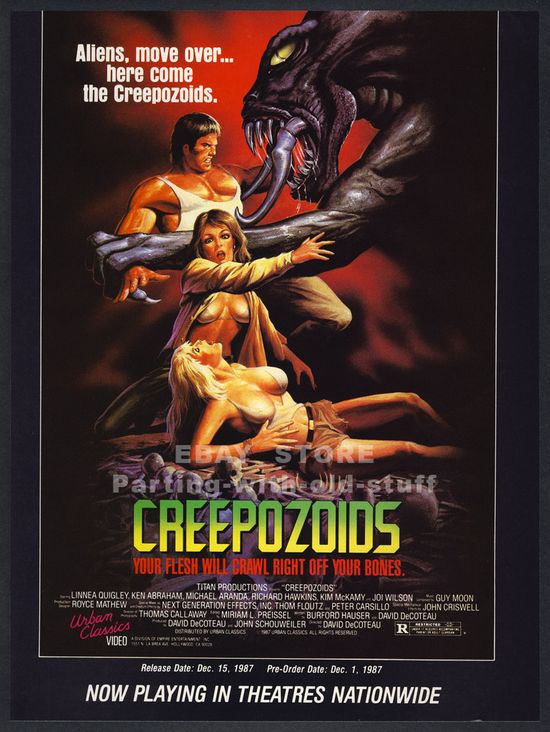 Year: 1987
Duration: 1:08:59
Directed by: David DeCoteau
Actors:  Linnea Quigley, Ken Abraham, Michael Aranda
Language: English
Country: USA
Also known as: Creepozoides; Aliens, epidromi sti Gi; Creepzone; Creepozoids – Angriff der Mutanten

Description: Six years after a global nuclear war what used to be cities, is a charred ruin.
In search of shelter from the deadly acid rain a group of young people gets abandoned in a biological laboratory, where they face terrible experience. The building is inhabited by mutants-creepozoid, bringing death…
"Creepozoid is not weak trash-fantasy from the Director of Dakota, whose record includes nearly a hundred films, balancing on the edge of thrash and outright delusions of a madman. They borrow ideas popular and successful fighters Yes horror movies of the 80's, not offering anything new. In this case, everything is quite simple — without any explanation of viewers are thrown into the meager decorations post-nuclear future. Just look at the small budget, in order to understand this movie better to watch, for example, on the channel "TV-3", when absolutely nothing to do, and the weight of the rest has long since been revised.
By the way, I accidentally stumbled upon "Creepozoid". Intrigued by the name and Association with all sorts of fantastic horror films of the 80s. In the middle of a few people who came across another bio-lab. She reminds more impermeable concrete bunker, or ruins of buildings on the outskirts of some abandoned town. The characters are completely cardboard, say and do things that we've seen in this genre a million times. "What happened here?" and "we Gotta get out of here!" that was all the imagination of the creators of this creation. However, as befits the genre, there's a pretty actress Linney Quigley, which then will certainly show Nude. What else to engage in such horror?
Moreover, throughout the film involved only six people, of which in the end only one will survive, and then to born even more stupid sequel. The only things keeping the screen on to the finals — the presence of funny mutants. Especially amused huge toy rat who supposedly know how to bite. However, in the end, in the frame seemed creepy baby is a mutant, trying to strangle the only survivor who overcame an unknown monster in a rubber and a paper suit. Filmed all very feeble, the actors show no emotion no cause, except that the scenery in places is quite good. The music is very mournful, but no atmosphere adds. In a word, fantastic garbage.
In my opinion, a cheap and boring fantastic horror film with an intriguing title and zero entertainment.
Screenshots
Download