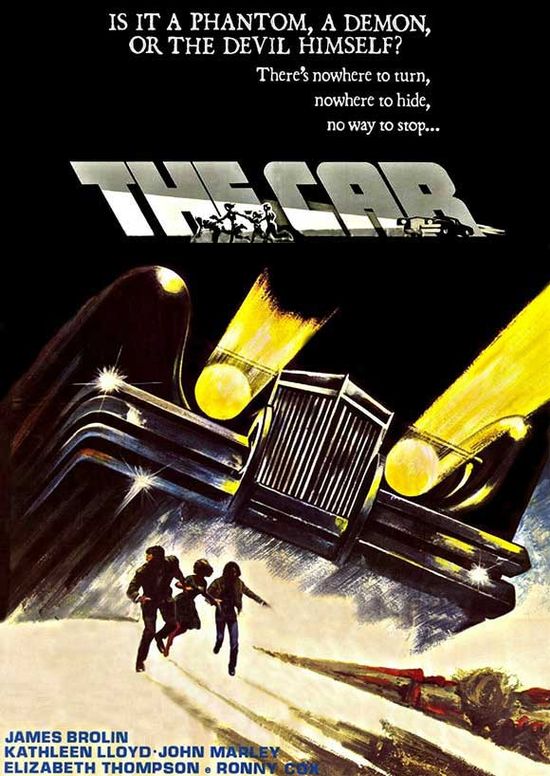 Year: 1977
Duration: 01:32:20
Directed by: Elliot Silverstein
Actors: James Brolin, Kathleen Lloyd, John Marley and R.G. Armstrong
Language: English
Country: USA
Also known as: DeathMobile, Enfer mécanique, La macchina nera, Der Teufel auf Rädern
Description: Excellent film. First of all the original plot and presented it to the spectator well. Because not a lot of films where a serial killer or just killer – car. Especially in the movie this theme worked correctly. Filmed by director of Nightmare Honeymoon movie.
At first I didn't quite understand why the car is not smashed people at the cemetery especially cheerfully screaming there on car Lauren. But then it became clear that the car wants revenge, and the memory is working at the junk perfectly. In the movie well enough transferred(shown) connection of the man with the machine. The car I must say really was a horrible first of all the fact that the car is killing while in silence instead he beeping and buzzing/growls motor.
Separately, I want to say about the musical component of the film. Music pleased, more precisely on it as a whole with the film correctly fits the movie footage thereby giving the film even more atmospheric.
Not only significant disadvantage of this film special effects. Yeah the movie the end of the 70s, but, in my opinion, even at that time, you could make better special effects or even brighter. Yes and if it's Thriller, the blood can also do more.
The presence of a detective in the movie for me has disappeared somewhere in the middle, in my opinion, the film is more like a mystic: where did this machine is in, what its purpose that kills and what is this car? These questions, by the way, I was interested throughout the whole movie, but a clear answer I did not wait on them.
Review: I had a crummy copy of this a long time ago but since I love this movie I decided to do an x264 , close to flawless, copy because as you can see by the pics below, this movie had some beautiful locals. This is one of those B camp movies that almost crosses over into being a good movie. The Car is one kick ass bad mofo! He honks the horn just before he runs your ass over! What a nice evil demented car! James Brolin is always a cool mother fucker to watch too! Check it out if youve never seen it.
Screenshots:
Download: