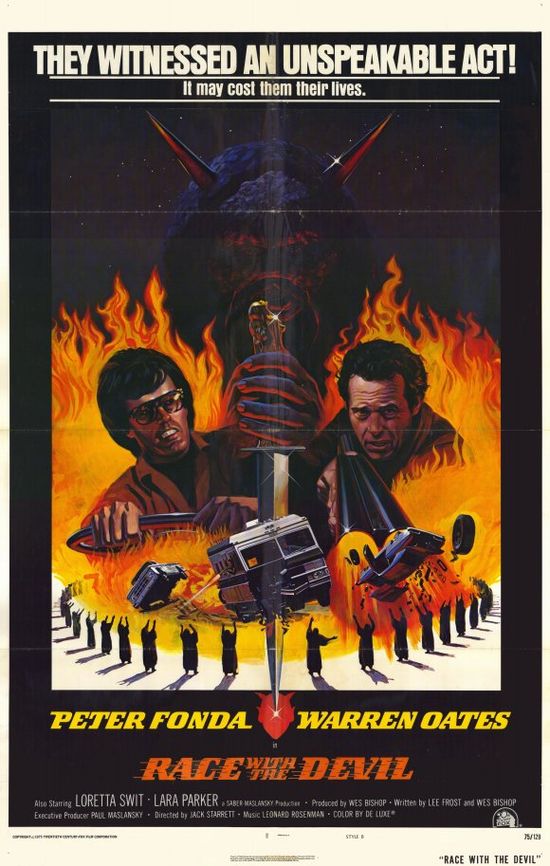 Year: 1975
Duration: 01:28:17
Directed by: Jack Starrett
Actors: Peter Fonda, Warren Oates, Loretta Swit, Lara Parker, R.G. Armstrong and Clay Tanner
Language: English
Country: USA
Also known as: Carrera con el diablo, Carrera contra el diablo, Course contre l'enfer, Djävulsrallyt, Djævelsk terror, Ecelle yaris
Description: Honestly watched this wonderful film by Peter Fonda , familiar to many for his roles in biker road movie " Easy Rider ," " Wild Angels ," which is still regarded as a legend of biker movies. By the way this is also a road movie , but he did not bikers , but Peter here without a motorcycle could not.
"Race with the Devil " is an old gothic Mighty tense thriller with elements of horror and thriller , that's such a wonderful explosive mixture .
We have not relatively arcane , simple story, one might even say a little ( all good) pulled out of " The Texas Chainsaw Massacre " Hooper Toba .
The film is about two best friends, and their wives , who went into a long-awaited vacation house on wheels. After the friends were suspended in nature itself had a drink and suddenly saw a group of people randomly Satanists who were doing human sacrifice . After that, and the trouble comes .
I want to note that in 1975 , as for me it is the most entertaining film of the horror genre . The whole movie keeps the tension from the opening credits , to the very end .
That's where the bailiffs themselves heroes do not seek help , who have spoken, everyone in the neighborhood belonged to a satanic organization.
In the film there is a great atmosphere , the acting , the idea and the plot , great chases and action scenes , and of course the ending of the film is unpredictable .
This film in its field has become one of my favorites , I recommend to all fans of horror and just a lover of a good and an old movie .
Review: "Race with the Devil" – a film quite strange. In it there is a very famous person – Peter Fonda, but it does not significantly change for the better movie. However, this is a good example of "terror on the road."
Screenshots:
Download: