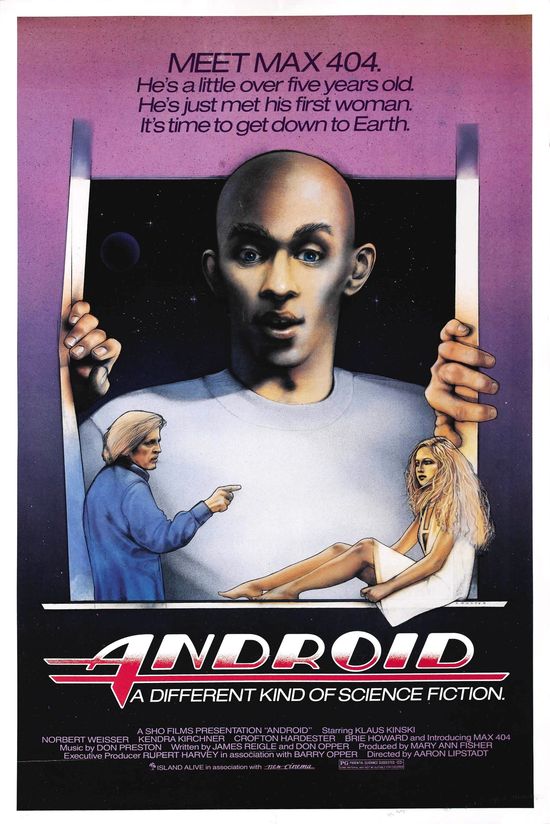 Year: 1982
Duration: 01:20:10
Directed by: Aaron Lipstadt
Actors: Klaus Kinski, Don Keith Opper, Brie Howard
Language: English
Country: USA
Also known as: Roboman (Finland) | Android – Molto più che umano (Italy)
Description: Klaus Kinski (Lifespan and Kinski Paganini) plays Doctor Daniel, a researcher working in a space station laboratory with only Max 404 (Don Keith Opper) as his assitant.
The year is 2036 and the work must be kept secret, since it objective has been outlawed by the rules of the confederations: develope a fully functioning human-like android.
The project consists of a female robot, Cassandra One, as the two men feel very lonely and reveal their need for human contact.
However, it is a distress call received by Max that will bring them closer to the contact with the woman they long for. A spaceship requires assistance and three subjects come on board the space lab.
Of course the two men that come with the woman that called out to Max only get in the way.
Review: 2036. On a remote space station science fanatical scientist, Dr. Daniel has constructed a robot named Max-404. At the station, there are no other members of the human race, so the robot has never seen other species other than their creator. Max-404 is committed to studying life on Earth in the twentieth century with the records and books. He wants to fly to his home planet of Dr. Daniel, but this is impossible. The fact that there is a long time ago there was a riot robots, and then they were banned and banished from the earth. Meanwhile, the plant makes a stop a small group of criminals who escaped from Earth. Max-404 surprised behavior arrivals. He's spying on the way they look at pornographic movies and make love. He likes the young woman Maggie, who arrived with the criminals. Max-404 learns that Dr. Daniel is trying to design a better android female Cassandra and replace the old Max-404. He cherishes the dream to become the ruler of the galaxy …
Unremarkable film on the popular theme of the mad scientist, and he creates an android that is a humanoid robot. The action takes place on a distant space station, which is in solitude Dr. Daniel tries to create the perfect creature. Android Max 404 (in his role – Don Keith Opper, one of the authors of the script) too quickly out of control, becomes independent in thought and deed. Incidentally, he is more humane space bandits, who landed on the station, while rebelling against their creator. And he now looks forward to a new model – this time it was a female, hoping to use it to conquer the world.
Feed low-budget, in fact – filmed in only 20 days, and the scenery in the back, which were built for the more expensive painting "Battle beyond the stars" (1980), was, in turn, is secondary to a number of fantastic film credits. What can we say about the "ANDROID", which appears in many aspects of amateur films? Even the wonderful West German actor Klaus Kinski, who played Dr. Daniel, perceived only as a piece of furniture.
Screenshots:
Download: