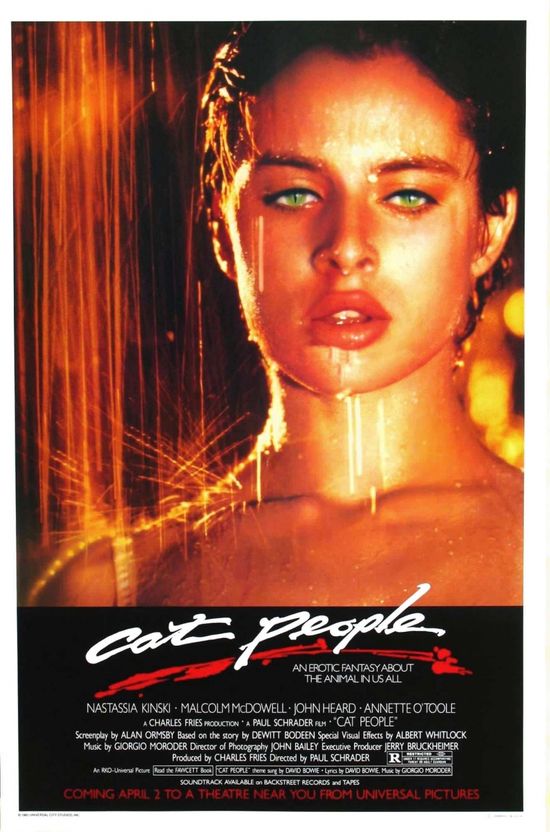 Year: 1982
Duration: 1:58:02
Directed by: Paul Schrader
Actors: Nastassja Kinski, Malcolm McDowell, John Heard
Language: English
Country: USA
Also known as: La marca de la pantera, La féline, Ljudi macke
Description: Once upon a time, when men gave their women of their tribe as sacrifices to leopards. Thus were born cat people. Externally, they have no diffrence with ordinary people, but from time to time they turn into animals and prone to violence.
Brother and sister whose parents died a strange death, occur in New Orleans after a long separation. The girl gets a job at the zoo and learns that in the city appeared a cat-killer.
Review: A 1982 remake of the same name mystical paintings in 1942, which has almost nothing in common except the main ideas and key scene in the pool. The fact that the film 40's served only chaste allusions, there appears quite frankly, in the spirit of the time. Once upon a time a tribe brought their children to sacrifice leopards, and from the tribe went to race people-shifters capable after having sex with ordinary people turn into black leopards (Panthera). Back to return to human form was only one way – by killing someone. Having sex without turning into animals they could only blood relatives, the same people-cats. Such is completely transparent allegory, in which not even need to stop.
The film Cat People begins with a meeting of brothers and sisters, members of this endangered species that live apart after the death of his parents, and finally found each other. The older brother Paul has long lived in an endless cycle of sex, transformation and killing, eating prostitutes and other dregs of society, of which is found in abundance in New Orleans. He had long wanted to stop this cycle, but can not stop, and so the younger sister Irene for it – real find. ONAKO Irena still young, virgin and naive suggestion of incest and leads her in horror. One brother in the form of a panther was caught, and they transported to the zoo. There, driven by instinct, a nurse came and stood all day in his cell, not knowing, but somehow instinctively knowing that this is it. There she spotted a young and beautiful zoo curator Oliver, who immediately offered her a job with him. Oliver already has a girlfriend Alice, who at first tries to make friends with Irena, but then begins to feed her burning zeal, which alone can experience a girl like "the guy" to the mysterious and exotic rival that easily turns the heads of the men, pretending to be so naive and innocent …
Normal people in the film playing a hundred percent Americans, and werewolves – exotic Europeans: a young Malcolm McDowell and very young Nastassja Kinski.
Whatever bredyatinoy all this may seem in the retelling, the screen looks quite organically, thanks to perfectly set up the atmosphere and a good acting job. I liked the picture, and especially favorite pieces, like night hunting a rabbit Nastasia in the infrared image, I revisited several times. The film Cat People is very great, as they say for whom how, but I love this style: a mysterious and mystical atmosphere of the old pre-flood New Orleans, real black panther (fortunately for the artistic merit of paintings, graphics did not yet exist), and a lot of erotica naked, and at some point was a naked Nastassja Kinski (who also played in Stay As You Are) beautiful synthesizer music by Giorgio Moroder. Particularly impressive in HD.
Review #2: Once upon a time in one of the tribes had a tradition of giving young girls the sacrifice of leopards. Thus they came to light, cat people are inclined at high sexual pleasure to turn into cats. Paul and Irene – brother and sister, are the last members of their own species and that their meeting in New Orleans does not bode well for all others.
The film "Cat People" in 1982 filmed the famous American director and screenwriter Paul Schroeder and produced by Jerry Bruckheimer famous now. This picture is a remake of the eponymous band in 1942 directed by Jean Turner. However, Paul Schroeder sought to create a completely new and much more candid film that we are talking about the beginning of the animal in human nature, and of love, and sex. The operator John Bailey powerful visuals tape saturates the atmosphere of New Orleans and bewitching mystery mixed with lust and longing.
Malcolm McDowell is bright and charismatic as Paul. His hero is unbridled and passionate and primitive none other than McDowell, could not play so. Coped well with the role of Irene Nastasia, to create an elegant and memorable way. Also memorable roles in the film performed by John Heard and Annette O Toole.
Giorgio Moroder wrote for the film is amazing and very stylish soundtrack, literally sewn into the structure of the belt, and inseparable from it.
I recommend this film to all lovers of quality of auteur cinema and horror films.
Screenshots:
Download: