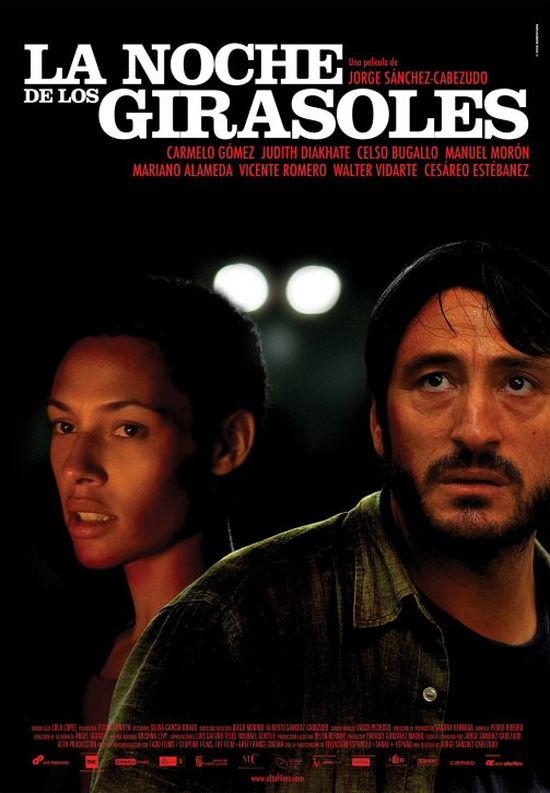 Year: 2006

Duration: 01:58:11
Directed by:  Jorge Sánchez-Cabezudo
Actors: Carmelo Gómez, Judith Diakhate, Celso Bugallo, Manuel Morón
Language: Spanish (English subs)

Country: Spain | France | Portugal

Also known as: La noche de los girasoles, Angosto, La notte dei girasoli, La nuit des tournesols
Description: In the village on the field with sunflowers was found dead girls. By knowing about this in the village comes a TV scientist caver (Carmelo Gómez who also played in Between Your Legs) to explore the mysterious cave found there. On the same day his wife was attacked in the woods, and a tragic accident leads to a number of errors, and further to the disillusionment and spiritual crisis of all the characters.
Review: The film, viscous and slow, sad molasses slowly gets to the heroes. In the peaceful village of Spanish young caver comes to study discovered cave. The company will make him a wife and photographer. Ordinary people, whose lives are brutally invaded and meaningless madness maniac.
Spanish director Jorge Sanchez-Kabesudo will bring its model of privacy and gradually fill the new drama fate entirely random people, like dry autumn leaves, that capricious wind, without looking, throws to another's window …
Does not want to reveal the storyline, losing most importantly – an unexpected angle of narration, which lacks in abundance. And that is worth seeing for yourself. It is only in unison with the director must mention our actions easily form the life and death of others. Infinity circle – when the event creates a subsequent function in reaction to an event. And all this in the given circumstances, which are arranged unfair chance.
Incredibly suspenseful and unpleasant noir thriller examining violent crime and it's aftermath.  Told from many different perspectives, Night Of The Sunflowers is a unique and masterful under-rated gem that has yet to have a US release.  Though it teeters on exploitation it's a well-acted and moody independent that took me totally by surprise.  Highly recommended!  Ripped from Japanese website, the picture and sound quality are superb.  English subtitles included and split into two avi files.  Please comment and let me know what you thought of this one.  Enjoy.
Screenshots:
Download: