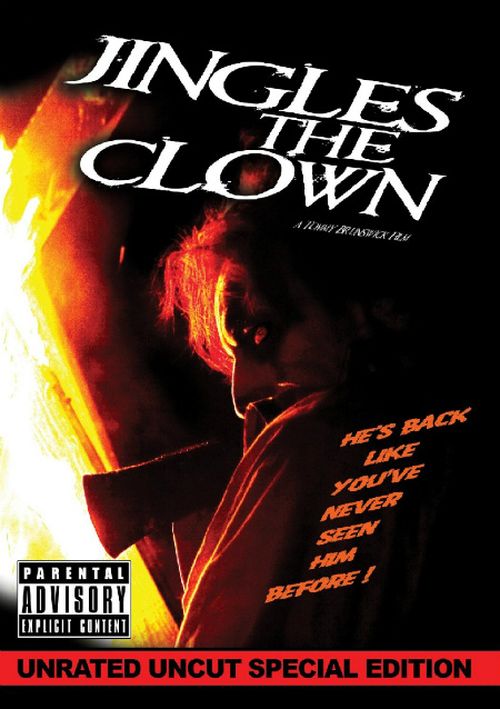 Year: 2009
Duration: 01:23:38
Directed by: Tommy Brunswick
Actors: John Anton, April Canning, Virginia Bryant
Language: English
Country: USA
Also known as: Jingles the Clown
Description: This is the sequel to Mr. Jingles, you probably want to check that one out first before watching this. Here's my synopsis to this flick:
"Angela Nelson returns to the house, where a psychopathic clown a few years ago killed her entire family. Returns not alone, but with a group of parapsychologists who convince her that the spirit of the killer left this place. However, this conclusion of experts is erroneous".
 Mr. Jingles, clown co-host of a children's television show, is also a serial child killer. He kills his partner, Crackers, along with his wife and one of his daughters. One 9 year old daughter, Angie, is saved by police who chase and shoot him, and leave him for dead after they believe he drowns into a septic tank. Several years later, the crew of a reality television show, "Haunted Maniacs", go to the remote sprawling estate where Mr. Jingles' family once lived and where many of his murders were committed, to film an episode, and they bring Angie, now in her 20s, with them. Mr. Jingles, still alive, reemerges and begins murdering the crew.
There are several key differences between this one and the original. The large actor who portrayed Mr. Jingles in the original has been replaced by a much smaller and less menacing actor. And the actress who plays Angie is also different. There are also changes to Mr. Jingles' background. In the original he was an innocent man framed for an attempted child abduction, who then became insane from years of torment and abuse in an institution, and killed for revenge, but never any kids. In this sequel, he is an infamous serial child killer, and the product of incest between a father and daughter, with no motive given for his actions, who is never imprisoned or captured.
Screenshots:
Download: