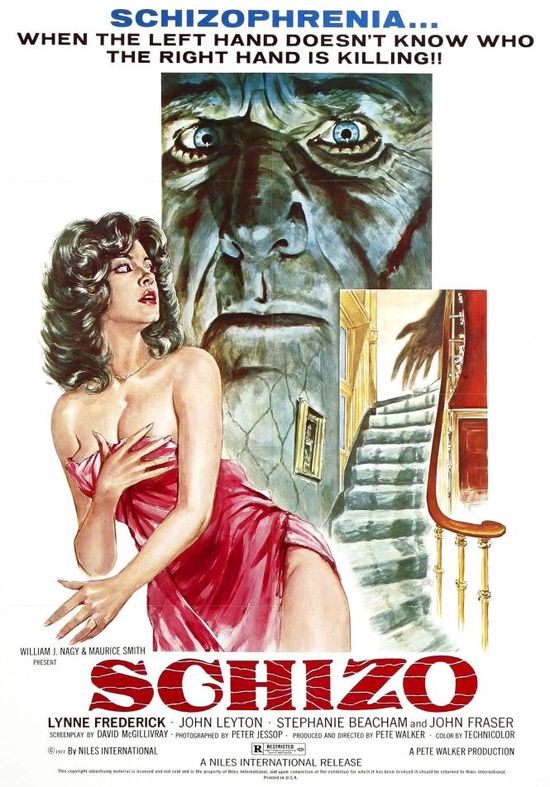 Year: 1976
Duration: 01:49:12
Directed by: Pete Walker
Actors: Lynne Frederick, John Leyton, Stephanie Beacham
Language: English
Country: UK
Also known as: Blood of the Undead, Schizo-vanvid, Demência Sinistra
Description: Young girl Samantha Gray is going to marry Alan . But the closer the wedding day , the more she begins to notice a man who seems familiar to her and stalking her . Sanity and peace of mind Samantha are in danger, as this mysterious man begins to make very explicit things like placing the bloody knife on the wedding cake . Samantha soon learns that this man – Will Huskies , a former lover Samantha's mother , who served in prison for her murder . But he really committed the crime ? …
Review: Samantha Gray happy and it's just as surprising, because very soon she will marry her beloved Alan . It seems that nothing and no one in this life will not disappoint Samantha and spoil her holiday. However, rather quickly in sight girl misses a mysterious man, who began to pursue her . Who he is and whether Samantha unravel its secrets ?
The film " Schizo " filmed in 1976 by ​​the famous British horror director Pete Walker . In this picture of the category slasher , Pete Walker cool and bright , paid tribute to the works of Alfred Hitchcock , creating a really stressful and not very bloody movie in which the horror achieved hints and powerfully through the created suspense bright direction and atmospheric work operator Peter Jessup repeatedly collaborated with the director.
Another plus point of the film was perfectly matched cast. Lynne Frederick excellently played Samantha , managing to convey the changing psychological state of her character . Also very memorable and charismatic characters perfectly embodied in the film , John Leighton ( Alan ) , Stephanie Beacham (Beth ), John Fraser ( Leonard ) and Jack Watson ( William mysterious ) .
Composer Stanley Myers wrote for the film is very melodic and full of inner tension and drama soundtrack, which is ideally approached him .
I recommend this classic detective horror all true fans of the genre , and I think the picture will not disappoint you .
Screenshots:
Download: