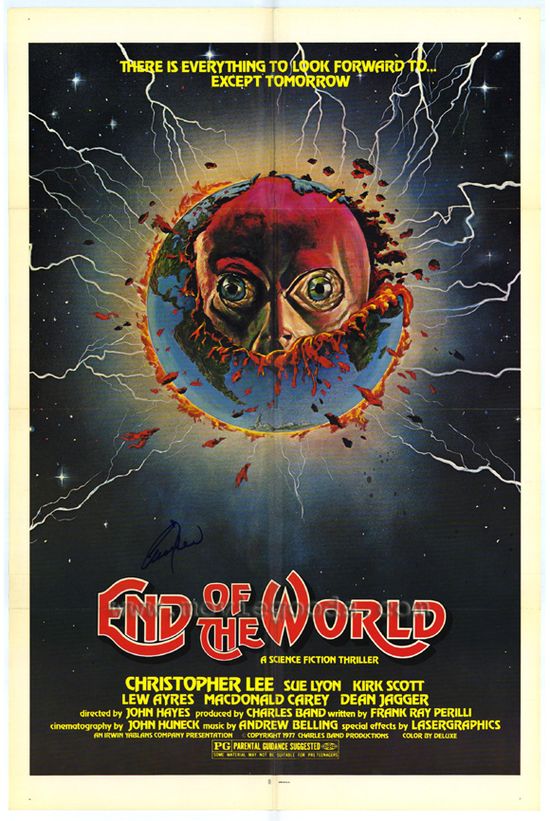 Year: 1977
Duration: 01:26:25
Directed by: John Hayes
Actors: Christopher Lee, Sue Lyon and Kirk Scott
Language: English
Country: USA
Also known as: Apocalypse Terre, Das Ende der Welt, El último día del mundo, To telos tou kosmou
Description: Scientist (Christopher Lee who played in Bloody Judge and Hannie Caulder) was able to intercept the radio signal of alien origin and based on the information contained in it to conclude that the frequent natural disasters on the planet can be connected to the activities of aliens.
Review: Scientist receives information from space that soon will happen some catastrophe of unprecedented proportions. Then on the radio he hears something just happened huge earthquake in China. This suggests that the message from space is really something to disasters around the world. A little later, with his wife, a scientist discovers how messages are …
Most of the film show a husband and wife, they walk, and from time to time to discuss pressing issues. In general, any action, which is a little, but should be present in the films dubbed one of the reviewers with imdb label «low-budget sci-fi». Incredibly boring. The only one who can entertain (and then only the male audience) – a pretty blonde wife appearance, known moviegoers, particularly the role of Lolita in the eponymous film by Stanley Kubrick.
Screenshots:
Download: