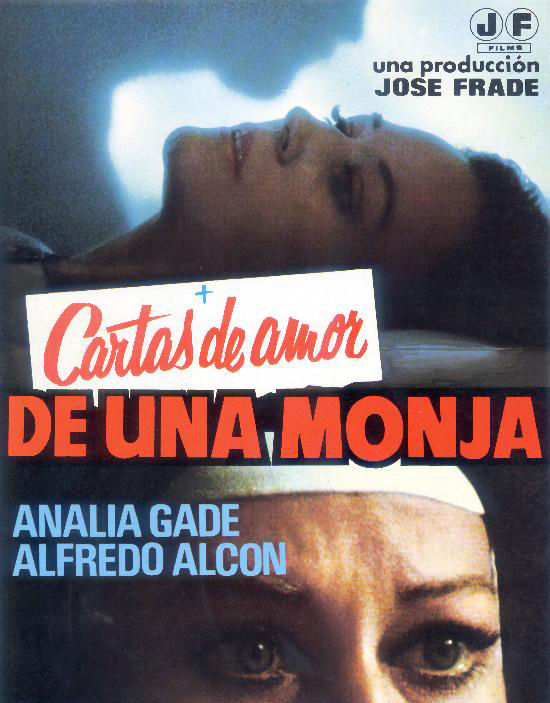 Year: 1978
Duration: 01:45:06
Directed by: Jorge Grau
Actors: Analía Gadé, Alfredo Alcón, Teresa Gimpera
Language: Spanish
Country: Spain
Also known as: Love Letters of a Nun
Description: Rare Spanish nunsploitation from Jorge Grau (Coto de caza) starring Lina Romay. Maria (Lina Romay who played in a lot of softcore/hardcore movies, including Female Vampire and Les chatouilleuses) is forced to enter a Spanish convent run by a stern Mother Superior. Maria mistakes Mother Mariana's maternal care for romantic interest and reciprocates by kissing, then fondling her. Maria then masturbates to orgasm. Mother Mariana then mistakes Maria's actions for demonic possession and turns her over to the inquisition.
Mother Mariana begins writing to her confessor about her sins and her ever increasing lack of faith. Through her letters she begins feeling an attraction to the confessor and eventually their relationship becomes clearly defined.
Review: Spaniard Jorge Grau film "Love Letters nuns" was released almost simultaneously with a "masterpiece" of another Spaniard – indefatigable Jesus Franco, who named his painting "Love Letters Portuguese nun." So it is not surprising that over time, these monuments epistolary little messed up. Moreover, surprisingly, but the reputation treshmeykera obviously played for Franco, and his careless hack through a large number of fans of the maestro kinomusora gained fame far greater than the chamber drama lady Grau, indulging in excessive bad taste his creativity unnoticed. Although, in fairness, it should be noted that very high points in his career did not happen – is that the film «Coto de Caza», who pulled a brilliant Assumpta Serna, it may be noted. And even then, only by acting.
Actually, the actress pulls and "Love Letters …". Gadé lectern as a mother Mariana does everything that is quite gray and not very intriguing plot his film remained in the memory viewer. And the story itself is sinful love between a nun and her confessor is his plot was to draw the attention of the viewer. That's just the narrator of Jorge Grau was always … How to put it mildly? Pretty boring. He even horror-story («Ceremonia sangrienta») managed to tell so that it could serve as an excellent sedative, and a love triangle in its interpretation («La trastienda») remained simple geometric shapes, stubbornly unwilling to detect any human feelings and passions.
Screenshots:
Download: