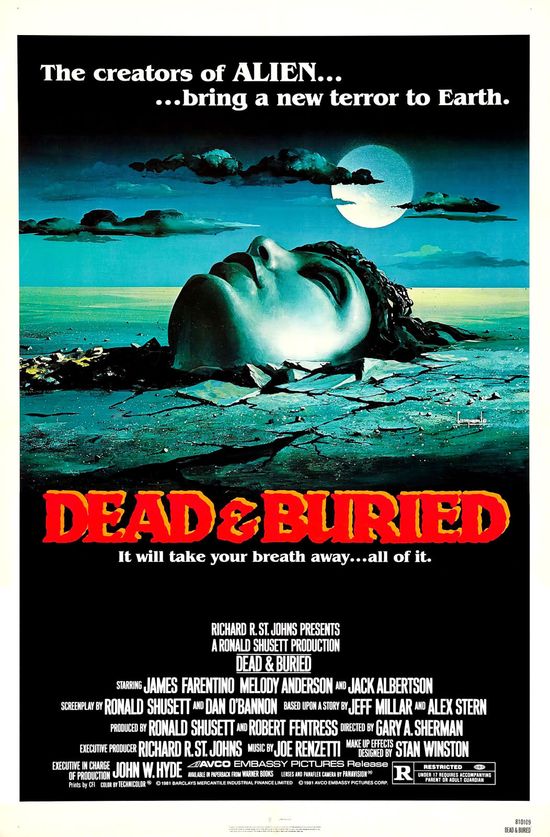 Year: 1981
Duration: 01:30:07
Directed by: Gary Sherman
Actors: James Farentino, Melody Anderson, Jack Albertson
Language: English
Country: USA
Also known as: Réincarnations, Tot & begraben, Zongeria
Description: Something very strange is happening in the quiet coastal village of Potters Bluff. Tourists and casual visitors a very warm welcome and accepted, and then brutally murdered. But even more puzzling is that these dead then appear on the streets of the town, as if nothing had happened. They are nice and friendly. And now the local sheriff and an eccentric mortician must reveal terrorize secret – the secret society that is home to the terrible tradition and no one … no one actually neither alive nor dead nor buried! Dead and Buried was directed by Gary Sherman who also made a rape/revenge drama Vice Squad

Review: I remember this movie is very, very long time, the old video tape, which, unfortunately, now I have not been preserved. What happened to her, I do not remember, but I remember the movie very well, despite the fact that the last time I saw him two years ago, and since then has never looked. This movie is quite old, it is filmed long time ago, back in the 80's, and it's even seen manners shooting. And I can say that these same manner only decorate the movie, give it a particular flavor and atmosphere of fear, the film breathes it. Old horror movies, even the 80's, 70's and even later somehow always skillfully and artistically convey the feel of the audience, and that they did not have special effects, they were able to scare and thanks to the efforts of the founders.
Name Dan O `Bannon, I think, familiar to anyone who saw the film" The Return of the Living Dead. " This man had a hand in the script of this film, and I'm sure that in many ways because of him and he will get this so unique and awesome. The difference between these two films is huge, and even silly to compare them, in my opinion. Two different pictures. And if the "Return of the Living Dead" is a black comedy, this film funny, in fact, a little. Here are more given to the fear, violence, and all the other qualities. At times, some scenes do look nasty and unpleasant, for example, the scene sticking a syringe in the eye. Although it is fast enough, you still feel are not pleasant.
The very first scene in the film "Dead and Buried " very clearly remember being scared, probably scared a lot better than other scary scenes, despite the fact that there are harder. I do not know why it happened, but I remember a long time, and even now I think of it with a sort of shudder. Time flies, are the year, there are new technologies that are tangent movies, they decorate them, make spectacular and beautiful, frightening and entertaining, funny and interesting. After ten years will already be removed completely different movies, with new technology, there will be horror movies. But such films should not be forgotten, because with them it all began, emerging genres, techniques that developers use in their paintings.
What do I remember this picture? First of all, I personally, she remembered his idea. Maybe she's not someone seems very interesting, but at that time it was very good and you can even say that in something original. And the dead are not so certain as it might seem at first sight. And you can also note the unusual course of action. At first everything is predictable, and then becomes more complicated.
In my opinion, fans of horror movies is the time to like this movie, or at least interested. He gives the impression of a very good shot. And indeed in fact a place where all the action – namely, Potters Bluff, in itself a strange and unusual. It seems to be a normal city, normal people, their problems, all his own, but it seems that there is something hidden. This case, the investigation of all these mysteries, is engaged sheriff of the city. He is joined in and the mortician. Although they know that a lot of what they can expect on the way to a solution of this horror, they still will not stop and try to see it through.
Screenshots:
Download: