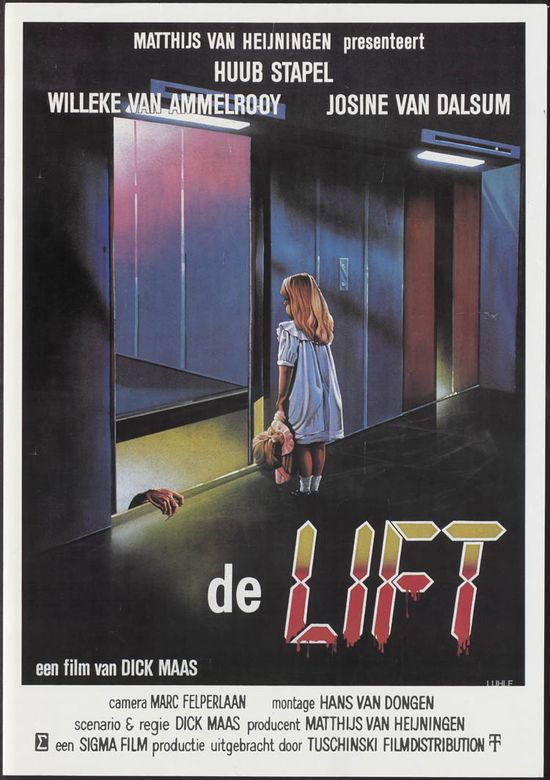 Year: 1983
Duration: 01:34:31
Directed by: Dick Maas
Actors: Huub Stapel, Willeke van Ammelrooy, Josine van Dalsum
Language: Dutch
Country: Netherlands
Also known as: De lift,   Goin' Up, O Elevador Assassino,   Лифт
Description: Several accidents that have occurred in the lift of a skyscraper company Ikarus pushed caused the master repairman Felix to the discovery that the lift actually has an Autonomous being, thanks to the integrated microprocessor. Along with arrived as a journalist he should take the battle with out-of-control mechanism and can withstand many tests to disable it…
I admit, the first time I see a Dutch film: still thought that they have no cinema. Though the film is old, strange. Removed all slow and viscous, more resembling a television show for channel Culture.
The horror movie is not called, although the theme of the "revolt of the machines" is becoming more popular in the movies. Filmed for a penny, but the Director was able to methodically bring the voltage up to the point where they begin to worry about the main character.
Interestingly, the film manages to develop weird lyrical line: the hero throws his wife and accused of treason, though he was not going to change. The actress played a hysterical wife, a loving husband.
The film can be viewed "in-well", the action develops slowly. Very interesting speech of one of the characters on the chips, how they will take the world. The film was made in 1983. And it all happens!
Americans made a remake of this film. It would be interesting to look at.
Screenshots
Download