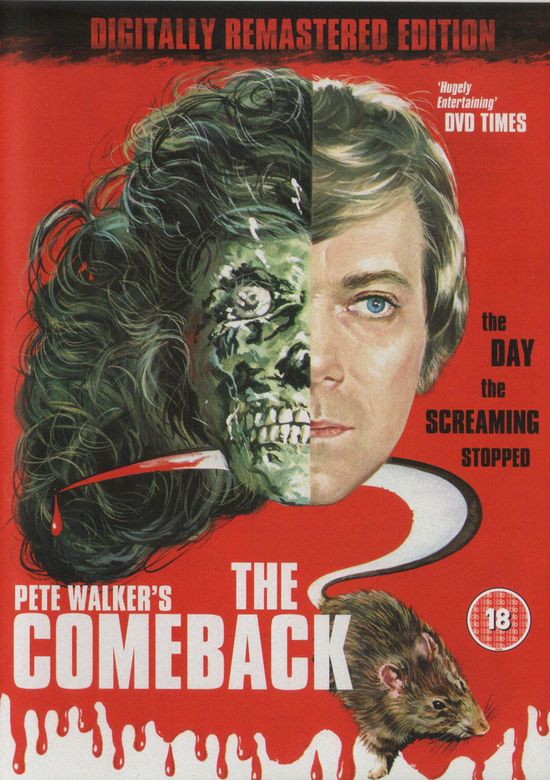 Year: 1978
Duration: 01:36:14
Directed by: Pete Walker
Actors: Jack Jones, Pamela Stephenson, David Doyle
Language: English (Plus Commentary track)

Country: UK
Also known as: El regreso | Los crímenes del ático | He tulevat öisin | Hallucinations | Le retour | Encore | Agria ekdikisi | Chi vive in quella casa? | Marerittet | Jeszcze raz | The Day the Screaming Stopped
Description of Comeback movie: Despite King's objections, this little-known screamer from UK filth icon Pete Walker is a bit of low-key fun, if nothing else. Schmaltzy 70s singer Jack Jones takes the lead as a singer in need of a comeback and he's dying to get on the charts again!
Review: Nick Cooper, adored by many pop singer and idol of millions , after six long years again decided to return to show business and record a new album . After moving to London for the realization of his idea and being tormented by doubts creative , Nick settles in an old mansion , but he did not suggest that his life was soon to burst the real nightmare.
The film "The Comeback" 1978 can rightly be called the best film by British director Pete Walker . Telling about the wrong side of show business and the creative throes of a crisis of the Creator at all, this picture is totally devoid of thrash metal elements , so inherent in some other works of Pete Walker . Directed masterfully injects suspense in the film , skillfully balancing between scenes of explicit violence and psychological terror , focusing on the sound and almost detective intrigue and colorful drawing the images of all the main characters and , especially , Nick Cooper , appeared in the film kind ambiguous , contradictory and mysterious. Nick actor who played Jack Jones laid out at 100% , creating a deep and interesting image .
No less convincing in the film as Pamela Stephenson, who plays Linda , David Doyle , who played the role of colorful Webster . and Sheila Keith and Bill Owen, who vividly embodied in the film a mysterious couple to Bi .
The operator Peter Jessop made ​​a film in a static and stylish manner , great passing in his spirit of the 70s .
Permanent composer Stanley Myers Pete Walker wrote to this film interesting and dynamic soundtrack , which became a real gem of the picture.
I recommend this to all lovers of thrilling horror horror films and film classics .
Screenshots:
Download: