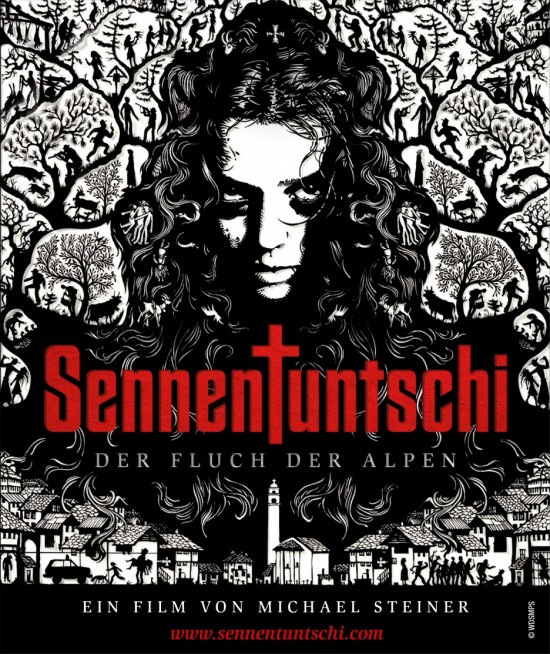 Year: 2010
Duration: 01:50:25
Directed by: Michael Steiner

Actors:  Roxane Mesquida, Nicholas Ofczarek, Andrea Zogg
Language: Swiss German (English and Spanish subtitles)

Country: Switzerland
Also known as: Sennentuntschi: Curse of the Alps, Зенентунчи

Description: Swiss Alps, 1975. Immediately after the suicide of a local priest in the mountain village of Tremont there is a mysterious girl. She's acting very strange, not talking and also scared to death of crosses and crucifixes, so that the residents begin to consider her a witch.
The only one who stands up for girls, becomes a COP Reusch. Soon Trapunte an accident occurs with the mayor's wife, which is again implicated guest. Then hold a grudge superstitious crowd to receiving help is becoming increasingly difficult.
This film has its attractions — his entourage, time and place of the action, music, mystery, folklore beginning. The impression produces the trailer and he gives such setting of the film. Overall, the expectations on this occasion is quite justified. Plus the film is not devoid of amusing scenes (as it is to punch a girl in the head with a stool or the behavior of the priest and the expression of the Cop sometimes delivers) that can be considered as a nice bonus.
Now for the not very pleasant. The film is filled with scenes of violence, including sexual, and flayed carcasses of goats (and not only) major plan has not been canceled. But it is, in General, trivia, though, and kind of nasty.
In my opinion, the film does not really justify the horror genre, and presented scenes of rape, I would not have attributed to the erotic. "Sennentuntschi" is a pretty grim in places temperovany (but not much of it), sometimes not very logical, but sometimes quite interesting Thriller.
Once the movie started with horror.
Screenshots
Download