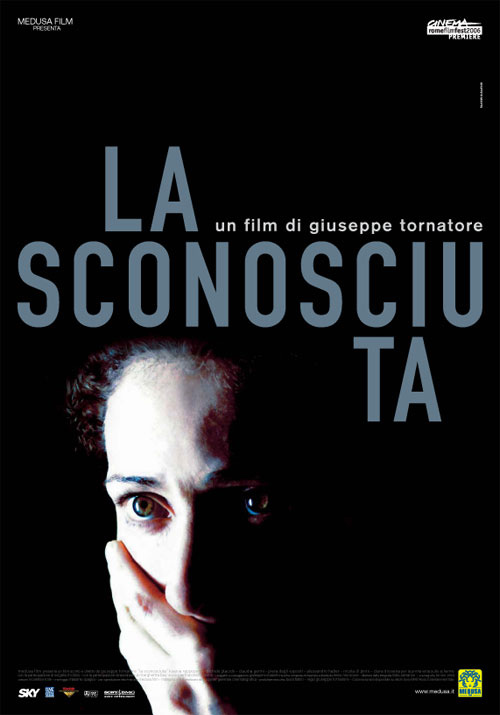 Year: 2006

Duration: 01:55:00
Directed by: Giuseppe Tornatore
Actors: Kseniya Rappoport, Michele Placido, Claudia Gerini
Language: Italian, Ukrainian | English Sub

Country: Italy | France

Also known as: La desconocida, A Desconhecida, The Unknown Woman, Az ismeretlen, Det ukjente, Die Unbekannte, Dold identitet, Esrarengiz kadin, I agnosti, L'inconnue, La femme inconnue, Nieznajoma, The Unknown, Tuntematon nainen
Description: In a small northern Italian town comes a woman. She is Ukrainian, a long time ago emigrated to Italy. Her name is Irene, but why she came – who is she really? Bizarrely mix  of past and present – in our eyes pieces of the puzzle are added into one picture.
She is an immigrant from Eastern Europe, was a victim of the modern slave traders. She would never forget the humiliation to which she was subjected. But, despite all the ordeals of fate, Irena can not forget the main tragedy of her life – a lost love. And now, despite the circumstances, in her still remained the power to love and a desire to change the fate.
Review:  Handwriting Wizard you see right away. In Giuseppe Tornatore, as I remember, only watched "Malena" is also worthwhile, even with a strong erotic movies. "Stranger" nevertheless once was a discovery for me, from the view that it was impossible to break. Remembering those experiences, you realize that these films are not in vain and through the fate of their characters (in this case heroines) will know some part of life, you feel strong emotions live.
For that I am so much so sincere and so in their own way like "Stranger".
Well, let's remember that in Hollywood they say: "In the film three important things – the script, the script and the script again." So, here it is magnificent. First, the life story. Perfectly spelled characters. Empathy is felt in every glance or sigh. Would you believe that as could be. Secondly, the construction of the plot. There is a main character. There her fate. Has her way. But first, we do not know anything about it. Then gradually the scene of the past mixed with the present, and every such turn open new secrets, but is especially remarkable that the way to the end. The tragedy of the story will not know until you get to the credits. Third, semantic and emotional content. This is not something like, "she went, came and went." Every action counts. Every action returns. There have to wade tremor episodes. One gets the feeling that the film does not turn out if you inside out, then at least try to dig into your heart, though you essentially nothing to show everyone you have not.
The brilliant acting. Discovered Ksenia Rappoport. This role is for sure it is the best. Such intensity of such force and at the same time, such a touching delicacy, which is evident in the moments when it is impossible to be a train and go through all the barriers to the goal. Very hooked to see.
Music, Cinematography, other actors – but everything here is top notch. If all filmed in Hollywood, there would be one non-pop or something. However, it is not even a European bias, and in the phenomenon of "The Stranger" in the cinema. Such films is small. These stories should be valued viewers.
And maybe there are a lot of definitions and common phrases of praise for the film, but worthy only say: look. You get tense, sometimes sentimental, strong history of mothers and women. You will witness the complex pathway that involves the dangers of the future, and threatening manifestations of the past. So we must be able to shoot and tell. You will not be easing as auspicious unnecessary surprises or completed at a time of action. Everything has a sequel, returns and demands that the person committed suicide with their fears, doubts and pain. Tests to the share of each model here is not accidental.
Very worthwhile film. For me – though not popular, but a masterpiece.
Review #2: The work of Giuseppe Tornatore, the director, whose paintings are always executed, with their Italian "accent" and emotional, in my opinion, you can also select another reason that once again Tornatore tried to "look into" a mysterious and enigmatic world of a woman's soul, which is not can not create intrigue, because it is always interesting to see how he sees, and most importantly, reports in this case, the display inside a woman's world, with all its torments and tortures, in fact, the man himself.
The history of "The Stranger" begins with the fact that in a small Italian town comes a young woman named Irina (Kseniya Rappoport), an immigrant from Ukraine. Having enough money with him, she – is not scruple to take up the execution of any work in the house, located opposite her windows. Why Every night she looks in the same window, watching the inhabitants of the apartment belonging to the family of some Adacher trying to learn about them as much information? What caused such a burning interest and desire by all means get a job in the housekeeper's apartment masters for the production of jewelry? What is the purpose of this mysterious stranger?
Memories … sometimes it happens that you only live through it, but sometimes just the opposite, painful and terrible events of your life continue to haunt you at a time when it seems that now it is the time when all the bad is behind us and in front of you a bright future. At such times, and have thoughts about how it would be good "if memory can be removed as a sting."
As a still difficult to come back from that life to this, a new reality for you, where you are no longer subject to numerous humiliations, and it is especially difficult for women, the weak and defenseless, and most importantly, exhausted and tired of the demeaning treatment that she had ever experienced. Women, for which every touch – as torture, and nightmares as constant companions do not provide "free" from the past, especially when it [the past] again makes itself felt.
What to do when, "Wherever you go, every step – a mistake," but when you need to act, to go ahead in spite of everything, stepping over their moral principles and moral quality and all this only in order to achieve the goal .
"Stranger" Tornatorre – this is a picture of a woman who in spite of his natural weakness could decide to desperate measures in an attempt to change his fate. But there are justified such action, when you are driven … love. But what love can do that? Perhaps, the one that … affectionately called the parent.
"I thought I drove all the scores from the past, but it seems that the past is not settled accounts with me."
Screenshots:
Download: