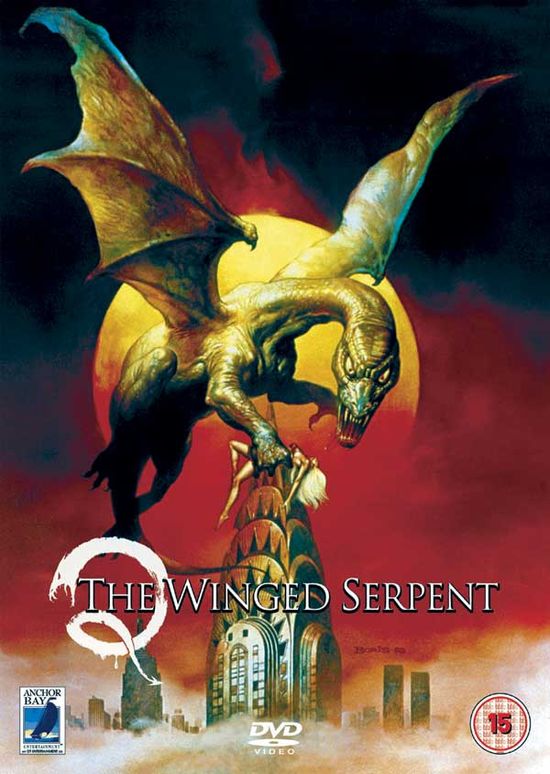 Year: 1982
Duration: 01:32:36
Directed by: Larry Cohen
Actors: David Carradine, Michael Moriarty, Candy Clark
Language: English
Country: USA
Also known as: Q: The Winged Serpent, Q – A Serpente Alada, Serpent, Il serpente alato, La serpiente voladora

Description: In New York, strange things are happening, workers in high-rise buildings disappear, or their bodies are out of touch with their heads, and eyewitnesses claim that allegedly saw a huge feathered creature. Simultaneously, the city police are investigating a series of bizarre murders, during which the victims were cut off all the skin methodically.
Detective Shepard in his investigation is gradually coming to the conclusion that these killings were ritual sacrifices and were the ancient Aztec god Quetzalcoatl, depicted on ancient frescoes in the form of a feathered serpent …
Review: The film "Q," or also called "Winged Serpent", directed by Larry Cohen, who also wrote the screenplay, and released into the light in 1982, I liked it. Just a couple of days ago, faced with this film. Looked. As I understand it, it's pretty rare. The very meaning of the film lies in the fact that in the normal town strange things began to happen. People who were on the roof, suddenly died or disappeared altogether. Their bodies were mutilated and beheaded. No one could understand what was happening. Anyone who is on the roof of his house, disappears or is found dead. The idea came up pretty good. Home is also quite bloody. Pretty hard to guess what kind of a monster that flies over the city and killing people, although it is possible to understand that this same thing can fly. And you will see herself somewhere in the middle.
Investigate these mysterious detective charged with murder Shepard. At first he did not understand, and the victims are growing by the day and it is clear that since this can not continue, or, quite possibly, the entire city can be lost. His friend recommended to go to the old museum and look for the answer there. And it turns out. Shepard, studying ancient drawings and various inscriptions, understands that this is the monster – some Aztec God. And it soon becomes clear that this monster is captured tallest skyscraper and settled there. Now there is only one question – who will stop this monster if it does not take a bullet, and he almost neubivaem?
The creators of this film have decided to make use of various myths, in this case – the Aztec. And pretty good it embodied. As for the special effects, which I attribute to it the very monster they are very good. Many would think that the animation curve and unnatural, sometimes freezes, but you look at the year in which the film was made. It's still a great job, which generally took the chance to show the monster, and in fact could not. At first it seems that he does not see, but he, in all its glory, seems pretty soon. Only the end of a bit stretched. And here's the surprise, which was on the top of a skyscraper, inside, made the topic, though, this could be guessed.
The result – an interesting and sometimes unpleasant film about a huge flying monster, who settled on a skyscraper and killing people. I'm sure worth a look.
Screenshots:
Download: