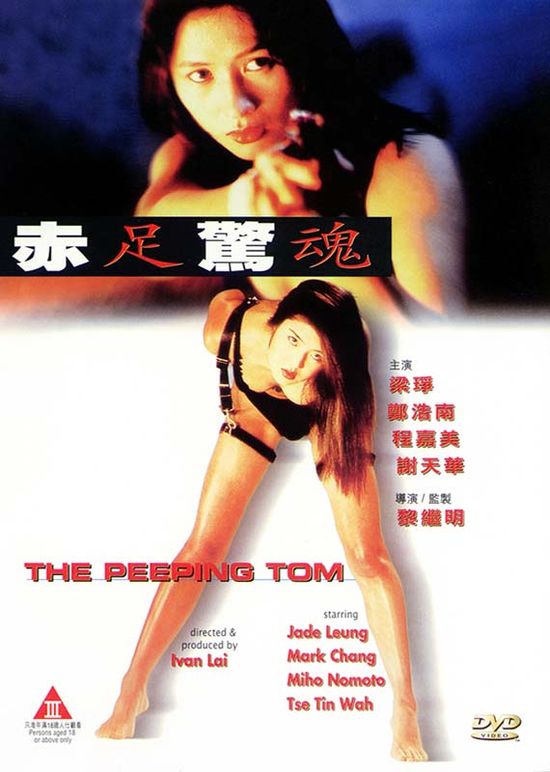 Year: 1997
Duration: 01:36:04
Directed by: Kai-Ming Lai
Actors: Mark Cheng, Wai-Kai Law, Jade Leung
Language: Cantonese (English Subs)

Country: Hong Kong

Also known as: Chik juk ging wan, Bare Foot Thriller
Description: A reasonably stylish film with decent performances and production values, full of the glorified and glamorized physical and sexual violence you would expect from a Category III Hong Kong film. Yet the plot that drives The Peeping Tom is far too simplistic to warrant repeat viewings. It's a basic cat-and-mouse thriller that fails to deliver many thrills or keep you guessing. There are no interesting twists and turns in the plot — a problem that plagues other HK movies, such as The Shackle (a lesser film which shares numerous similarities with The Peeping Tom). Still, The Peeping Tom offers some cheap thrills and minimal titillation. And, of course, gorgeous leading lady Jade Leung (Black Cat, Killing Me Hardly) is reason enough to give this one a try.
Review: As far as latter day CAT III flicks go, The Peeping Tom is definitely one of the few watchable ones. Directed by Ivan Lai, The Peeping Tom is a seedy little film with extremely creepy rape scenes – creepy because Lai shoots them to blatantly titillate his audience rather than shock or disgust them.
The cast is nothing special, other than the super hot Jade Leung from the Black Cat movies, and the characters are hilariously idiotic (even more so than your average HK CAT III). The gore is also minimal, but the film scores major points for the demented leg fetish angle it takes.
While it's got nothing on Lai's earlier efforts like Daughter of Darkness and its sequel, The Peeping Tom should be sleazy and insane enough to please most fans of this kind of stuff. The film gets progressively more out of control as it goes and features a handful of great scenes.
Screenshots:
Download: