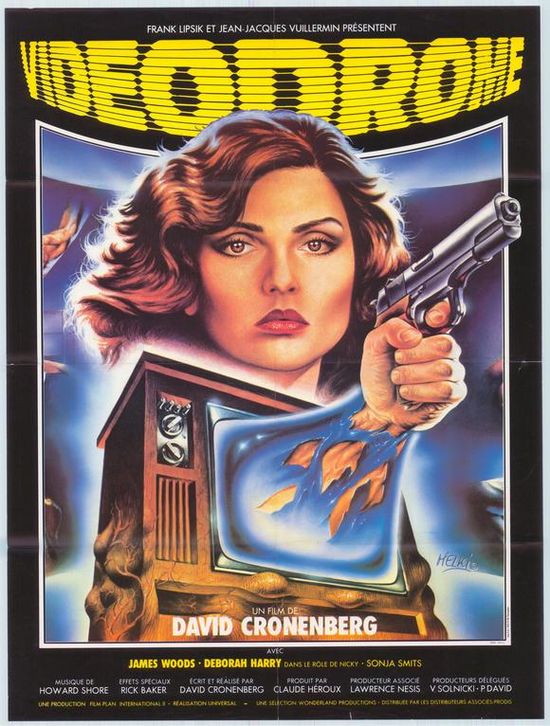 Year: 1983
Duration: 01:28:51
Directed by: David Cronenberg
Actors: James Woods, Deborah Harry, Sonja Smits
Language: English
Country: Canada
Also known as: Vidéodrome, Videodrome – A Síndrome Do Vídeo, Network of Blood, Cuerpos invadidos
Description: TV producer Max Renn, looking for a fresh and original video for a cable channel, accidentally stumbles upon "Videodrome" – leading from nowhere show about sex and murder, multiple views that can expanded not only the psyche, but the flesh of human …
Review: "Videodrome" – a typical Cronenberg film, where the man-made and mixed physiological horror. James Woods plays Max – a cable television employee who learns that because he looked "Videodrome" (poor recording torture and violence), his brain has undergone a complex form of hypnosis, and it turns into a weapon for murder. His television comes to life and begins to breathe, he reviews videotapes in his stomach, his hand into a gun …
The film is full of Kronenbergskih directorial techniques that immerse the viewer in a real fear … The script is very hallucinogenic, Cronenberg (Rabid and Crash) does not show all the audience in the forehead, he prefers to leave the viewer in the dark events. The film was shot very much in the style of his last film "Scanners", with the same anarchic plot: beginning – the standard, but in the end everything turns into a bit of thrash mayhem!
This thrash chaos happening felt in almost all his films, "The Fly" (where the protagonist mutant thinks that it would be nice to be a fly-businessman), "Dead Ringers" (where one of the twin brothers, in a fit of drug-induced delusions creates tools abortion for women mutants, and then it operates them his brother) well, and the film "Naked Lunch" – which is a trip to the patient brain addict … fear for the mental health of the very Cronenberg, he from his nightmarish film probably gets a huge pleasure, he just likes to play on the nerves of the audience.
When watching movies branded Cronenberg begins to fear for his sanity, too, his films are hard to see out, especially if you are fond of relaxing Hollywood comedies. The film "Videodrome" – is his greatest achievement, in my opinion, this is where he used his directing freedom and made the film entirely in his inimitable style.
It is in "Videodrome", in my opinion, James Woods plays his best and most iconic role.
Screenshots:
Download: