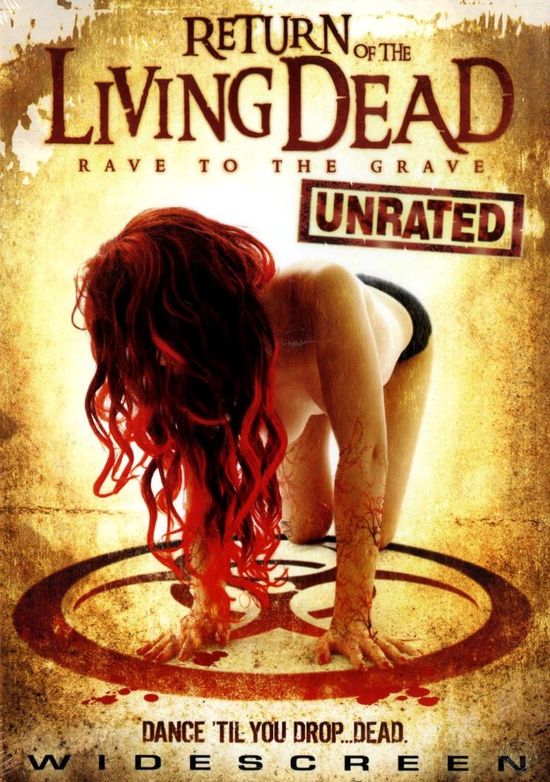 Year: 2005

Duration: 01:35:11
Directed by: Ellory Elkayem
Actors: Aimee-Lynn Chadwick, Cory Hardrict, John Keefe
Language: English
Country: USA
Also known as: A Volta dos Mortos Vivos – Rave | El regreso de los muertos vivientes: Danza macabra | I epistrofi ton zontanon nekron 5: Rave sto nekrotafeio | Le retour des morts vivants: Rave Mortel | Return of the Living Dead 5

Description: Those fun loving tryoxin zombies are back,and this time their crashing the party! A group of college students stumble upon the few remaining tryoxin containers. And discover that when ingesting the liquid tryoxin found inside in small doses, creates an lsd type of high.  With the next big rave right around the corner they decide to sell it as new drug called Z.  But when partygoers slowly start turning into bloodthirsty zombies with a craving for human brains,they quickly realize this will be one rave they'll never forget! A rave to the grave!…
Review: When in the end of the movie «Return of the living dead 4», the main character was going to the car with radioactive barrels, it was already understood that soon will be continued. Director Ellory Elkayem did not wait long, and has released the fifth place in the same year that the fourth. When you watch this film, you realize that it was done in a hurry, because this film even the film's hard to call. Most of all he looks like homemade movie ordinary students.
Again barrels of gas and again ridiculous people who are pretending himself the living dead. This film can be called the worst film about zombies. Living dead then all of them are not dangerous and cause one pity. Make-up artists apparently worked in children's party, and then came into this film work. Yes and actors is also not very good. They are here, incidentally, almost all came from the fourth part. Only a paradox here, they don't remember what was in the fourth part. The hero looks at the barrel and says this, and he was with her before tinkered. And such mistakes will be many.
And the hard DLNP is at the beginning of the movie. Look carefully at the corpses lying on the tables, about a fifth minute from the beginning of the film. It seemed to me or did they breathed. I don't think so, not thought, and the actors are probably not even aware that they are removed. I laughed at this moment like crazy. This movie is so bad that it really becomes very funny.
And I and I do not understand why it was necessary to insert the moment when the zombies votes in the street. Well, do you imagine this game? I'm just not believe my eyes when I watched this moment. The Director of this film just laughed at the whole genre, and the people who invented the living dead. I do not advise anyone to watch this film, and especially fans of the living dead. There are a lot of other films about the living dead, which are very interesting to watch. And this film I can only slapped unit.
Screenshots:
Download: