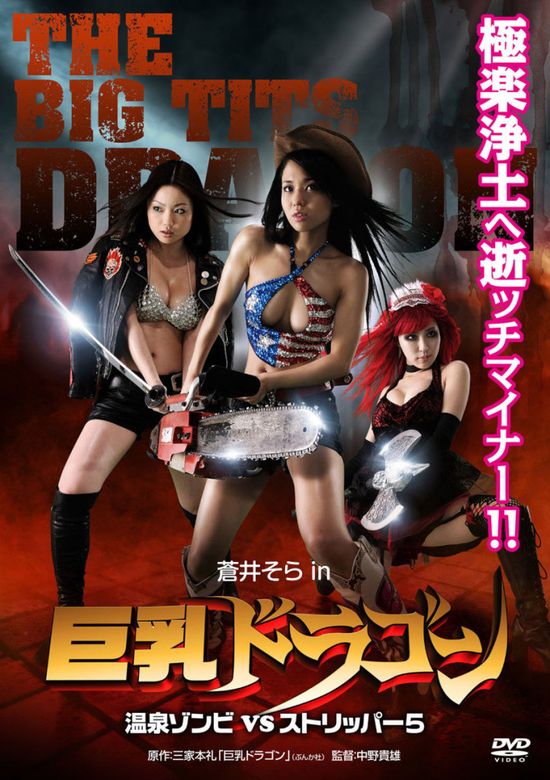 Year: 2010
Duration: 01:31:11
Directed by: Takao Nakano
Actors: Sola Aoi, Risa Kasumi, Mari Sakurai, Tamayo and Io Aikawa
Language: Japanese (English subs)
Country: Japan
Also known as: Kyonyû doragon: Onsen zonbi vs sutorippâ 5, Nippon Splatterotics 1, The Big Tits Dragon: Hot Spring Zombies vs Strippers 5, Zombie Stripper Apocalypse
Description: Young dancer with a typical Japanese name Lena gets a job in "Paradise Theater Ikagava." This is a club in a country town, where she performs with four other girls. Once they discover a hidden door in their dressing room, the basement at abandoned building across the street.
There they found a satanic book, with which one of them inadvertently brings to life the undead. With bloodlust zombie attack noone can't stand in their way. Lena and the rest of her "dance troupe" must fight together to defeat the hordes of ravenous corpses.
Review: Variations on a zombie I've seen a lot of trash, and among them were pictures of a much higher and much worse than this creation. So I will try to objectively describe how and to whom it may like.
Strange as it seems, it is the place in the beginning of the movie spoiler. At the very least, it makes it clear and what to expect when you start the meat. Generally speaking, the action develops rather slowly (for timekeeping in miserable 73 minutes is truly amazing), so if you watch a movie purely for the sake of action, thanks to a chance to watch the spoiler. Although I personally and the first half was funny, and fun. I just organically do not understand how you can be bored, watching the screen cute Japanese women dancing to "exotic dancing" and walking around the dressing room almost naked.
By the way, although there costumes and minimalist, but cool. That there is one Mexican Lena outfit or sexy costume, quoting Tarantino, in turn quoted the Bruce Lee! And there's a smart emo-girls in the appropriate clothes, which every other word quotes of famous philosophers, and (thanks to the knowledge in Latin) open the "gates of hell" – or rather, well spirits. The only pity is that the dance was much less than the battles. The first work out girls are not as bad as you might think, based on the attendance of the club …
Frankly enough thrash elements: from the land turned into a zombie (and this happens, it turns out) to the fiery vagina. But fans of Japanese cinema last hardly surprised, because before "stripper" and machine guns were growing out of the ass, and lengthening toothed member. However, within this particular picture looked perky.
We now turn to the main point. Zombies, of course, there are pokachestvenney. True, there is another question: Is the general plans of the film bother good makeup. In the end, much more attention is drawn to two bright girl with a katana and a chainsaw. Staging fights not possess originality, but it shines with something else, namely – occasionally denude Teleses heroines. Actually, this is the main plus a "stripper against zombies." Subject boobs revealed, and rightly so.
Film at 'bitchy stuff ", but with a more linear plot. Those who wait "Living dead bodies" and more lulz, is better to see "The Big Tits Dragon", and who are more interested in the strippers – why not look?
Screenshots:
Download: