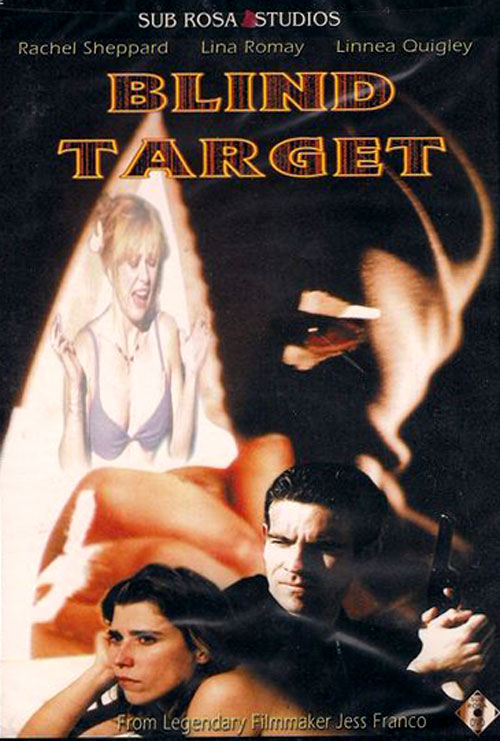 Year: 2000

Duration: 01:26:23
Directed by: Jesús Franco
Actors: Rachel Sheppard, Tatiana Cohen, Oliver Dennis
Language: English
Country: Spain | USA

Also known as: Obietivo a ciégas
Description: In 2000 Jess Franco shot a typically low budget film called Blind Target for One Shot Productions. It's an odd mixture of genres, part downbeat political thriller, part soft porn exploitation, part crazy martial arts film, and features Lina Romay as an evil cackling torturer AND Ninja warrior. It sounds fun, but it's one of his most reviled films. None of the different parts gel together and the soundtrack is terrible, a mixture of broken English and even worse American voiceovers. In the documentary about the making of this film Antena Criminal, we learn that Spanish actress Tatiana Cohen spent a whole hour trying to pronounce the word "Shape" correctly, whilst Uncle Jess lost his temper. What a mess! According to IMDB, the film had 12, count 'em, 12 producers.
Rachel Sheppard plays an author who goes back to her own Latin American country to promote her latest book despite threats not to. Once there she gets involved with the chief of police and is mixed up in all kinds of political shenanigans. As if that's not bad enough, she's tortured by a gleefully sadistic Lina Romay (Lilian The Perverted Virgin)! Luckily her husband is a martial arts expert working as an American agent. There's even a cameo by Linnea Quigley. What more could you want?
The film has a strange ending which I won't reveal. Whether it shows a lack of interest or narrative daring I don't really know but it helps to lift the film out of the ordinary. Not that it was at all ordinary in the first place.
Review:
Screenshots:
Download: