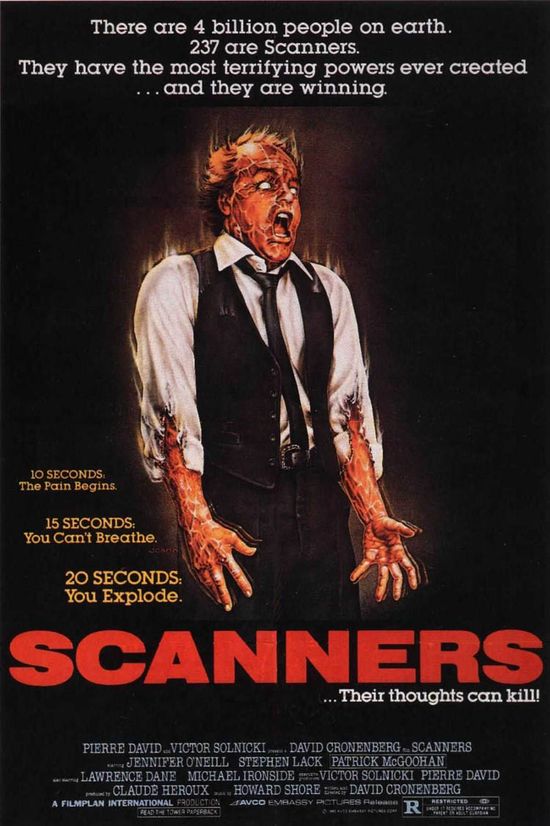 Year: 1981
Duration: 01:38:39
Directed by: David Cronenberg
Actors: Jennifer O'Neill, Stephen Lack, Patrick McGoohan
Language: English
Country: Canada
Also known as: Telepathy 2000, Scanners – Ihre Gedanken können töten
Description: They live among us – scanners, who can read mind of others and who can kill your brain. One of the scanners, Cameron Vale, by the request of Dr. Paul Ruth, a specialist in mental disorders, is trying to find Darryl Rivoka scanner, which is at the head of a secret organization, aims to establish the rule of scanners in the world.
Cameron comes to the aid of Kim Obrist, which has a similar vain to control other people's minds.
Review: Cronenberg has always gravitated to the bizarre violence, "Scanners", I think, is very close to the level that in six years it will reach the epic "Fly" that is, when the form is in the form of nauseating (in a good way) effects harmonizes with the content in the form of not twisted, but moderately interesting and meaningful story. For example, in earlier "convulsions" on the former did not have enough money (though evil slugs went bad), and the second, David, I think, a little bit overboard with the symbolism that people say lustful animals and stuff like that. In principle, as in "Videodrome" – tape entertaining and good, but for me ponderous in semantic perception.
What Cronenberg does now … Now he takes Pattinson, and that's it. Basically, in my old age so you can relax with genres treat, the main thing that indulgence that not turned into a habit or something worse – an addiction. Well, it's important to remember that golden age of Canadians – the eighties. And the "Scanners" – a film with which Cronenberg into these eightieth vtsupil.
First of all, I want to note classy cast, which is leading, who could doubt, Michael Ironside, the man and the ship with a metal in the eyes and expressive voice. Who would have thought – one of the first really prominent roles in the movie, and he has played the villain so well! The goodies on the background it does not get lost – Stephen Leka and Jennifer O 'Neill enough charisma, but the acting – it is a different matter. Games can be played, but in a wide palette of emotions does not expect. Patrick MakGuhen and Lawrence Dane bad.
About retching – actually, despite Pruszcz from all slots modest budget crafty Canadian pervert was able to provide a picture of quite convincing bloody, among which undoubtedly stands out the scene with the explosion of the head, which would take a pencil and then did zashtampuyut in two sequels. Besides, there are a couple of spectacular shootings, and a short but brilliant car chase.
The scenario, for which David also answered quite convincingly draws a universe in which ordinary people there telepaths "Scanners" (still do not understand – the one called to write the word or two, to hell with it – I will be two), will be enough clearly explain where they went, but some scenes are still sinning nudyatinoy and unnecessary, and scanner, at leisure to make art in order to escape from the voices in my head, like at all was put into the story to show another gunfight. Still, for a writer, this scenario very well.
Well, that's all – in the end I would like to thank Howard Shore for a memorable music so wish Cronenberg's early return from sabbatical – coverage of the life of the Russian mafia and other ekzertsisy – this is well and good, but I would like to look at something new, weird, in a good blevotvornoe. And please, no Pattinson. But sequels … Maybe look at your leisure, you never know.
Screenshots:
Download: