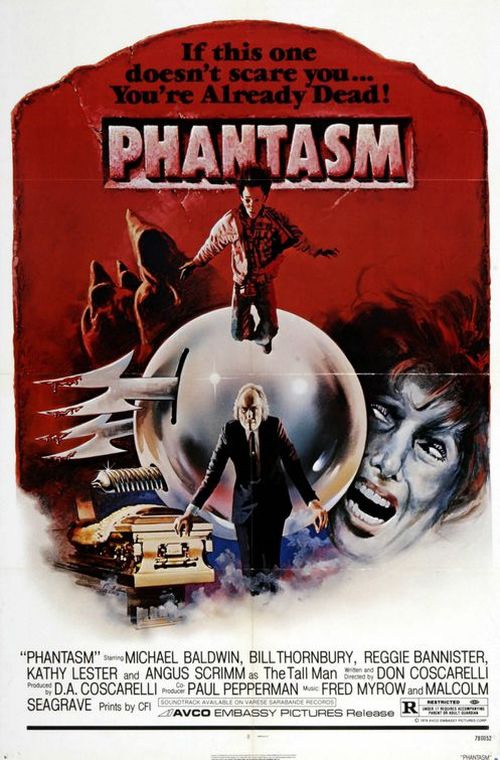 Year: 1979
Duration: 01:50:59
Directed by: Don Coscarelli
Actors: A. Michael Baldwin, Bill Thornbury, Reggie Bannister
Language: English
Country: USA
Also known as: Das Böse, Fantasmi, Phantasma
Description: Little given to meet with otherworldly powers. Survive after such a meeting – even more difficult. Two brothers, Mike and Jody, witness unexplained, mysterious phenomena in the town cemetery. They see the ghosts that roam the night among the graves. In the eyes of the brothers are born small but powerful demons, in sealed crypts heard a mysterious whisper.
Mike Jodie manages to figure out what the cause of these phenomena – the Gateway to the mysterious, scary, alien world. Keeper of the gate is "Slammin 'armed flying silver sphere that the borer head intruders. Uncover the terrible secret cemetery brothers and their friend Reggie will have to enter into a brutal fight with the "big man". Victory or painful death – they have no other choice.
Review:
Two brothers, Mike and Jody, witness some highly suspicious activity at the local mortuary. It all points to the sinister looking "Tall Man", who has a floating silver sphere that drills into its victim's brains. The Tall Man is also linked to a mysterious gateway to a scary alien world.
"Phantasm" has elements of classic horror mixed with inventive shocks and some gore, especially when the deadly floating silver sphere tracks down its prey. The film won over a large number of fans on its initial release thanks to its surreal atmosphere and inventive special effects that often overcome the low budget. It was successful enough to lead to two sequels, and was one of the first movies made by Don Koskireli (Phantasm 2 and The Beastmaster). The budget of about $300,000 was spent very well, with the movie rising well above trashy horrors with similar funding. Although it is considered a cult horror, it may not pack as hard a punch for today's audiences as it did to a certain generation in the early 1980s. While it may not be as scary as it was first time round, some viewers may find it worthwhile with a few laughs. There are some funny moments as towering actor Angus Scrimm plays the Tall Man with a mix of humour and horror in mind.
The story can be a bit convoluted and unbelievable. Who is the Tall Man and what exactly is he up to? It turns out he's stealing stiffs from the morgue as well as getting fresh bodies by killing people, and then turning his victims into undead midgets who are destined to become slaves in another dimension. The story gets even more ridiculous near the end and all logic is completely absent, so you have to sit back and enjoy the ride.
"Phantasm" is likely to be of most interest to viewers who feel nostalgic about some of the horror films from their youth that still stick in their mind. While some of the movie drags, thanks to a few memorable scenes, people who saw this film all those years ago may get a thrill from seeing it again. New viewers may have to take a gamble.
Screenshots:
Download: