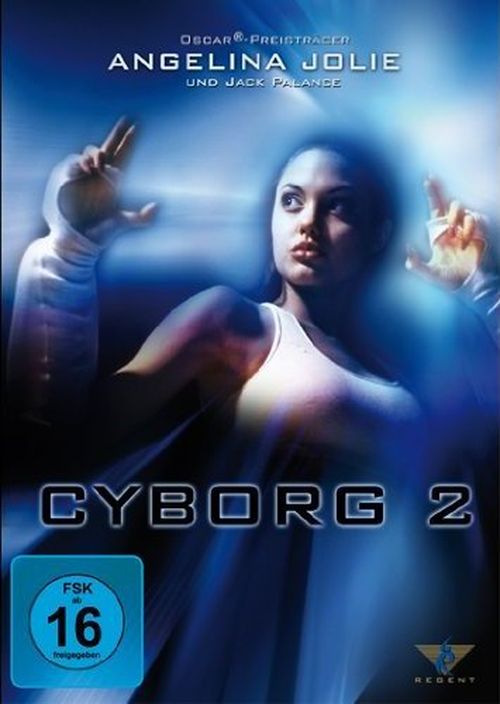 Year: 1993
Duration: 01:35:19
Directed by: Michael Schroeder
Actors: Elias Koteas, Angelina Jolie, Jack Palance
Language: English
Country: USA
Also known as: Antimetopoi me to hrono, Glass Shadow
Description: In the year 2074, the cybernetics market is dominated by the USA's Pinwheel Electronics and Japan's Kobayashi Robotics. Cyborgs are commonplace, used for anything from soldiers to prostitutes. Casella Reese is a top-of-the-line cyborg developed for corporate espionage and is programmed with the "Glass Shadow" program, meant to mimic human senses and emotions such as fear, love, pain and hatred. However, Glass Shadow is also an explosive that runs through her entire circuitry. Guided by the renegade prototype cyborg Mercy, who can communicate through any television screen, she and combat trainer Colton Ricks escape the Pinwheel facility so she can avoid her fate of self-destruction, one that faces most corporate espionage cyborgs.
Review: The best thing that can truly be said about this (non) sequel to the 1989 Jean-Claude Van Damme vehicle is that it really has nothing to do with that film. There's a few seconds of footage from the first Cyborg, but really, there's nothing here to suggest it as a sequel. It's pretty much a standalone film which just has a title which is supposed to denote it as a sequel.
The plot is pretty standard as far as dystopia films go: 'Cash' (Jolie) is a human-like cyborg created by the evil Pinwheel corporation, who is unknowingly installed with a dangerous explosive called "Glass Shadow" which the company plans to use to destroy their adversaries. Of course after she discovers this, Cash escapes with her human companion, 'Colt' (Koteas) to the 'surface world' to find a way to disable the explosive. Guided along by the mysterious 'Mercy' (Palance), and hunted by psychotic 'Cyborg Tracker' Danny Bench (Drago), our heroes are on the run and quickly running out of time…
What we have here instead, is a fun little film featuring Angelina Jolie in her first starring role (let's see them try to bring this up on "Inside the Actor's Studio"!), Elias Koteas as her whiny cohort/love interest, Allen Garfield as the evil head of the 'Pinwheel' corporation, Billy Drago as a psychotic bounty hunter, and Jack Palance as the mysterious Mercy. Although Palance is mostly a voice throughout the film, he and Drago are definitely the reasons to watch this film. Both obviously realize they're not making art, and seem to have a heck of a lot of fun with their roles.
And while this film is a lot of cheesy action fun with blood, boobs, and lots of explosions, there's something a little more to it that makes it watchable. Director Schroeder really seems to put through the effort to make this film something more, even if not completely successfully. Some scenes come off as a bit pretentious (did we really need to see the scene with Palance and the picture frame a dozen times?), some actually work in their own strange way (the last scene, cheesy as it looks, is kind of a touching finale to the film). It's far from great art, but there's a nice bit of effort behind it.
Followed in 1994 by Cyborg 3: The Recycler , also directed by Schroeder, but featuring another actress in the role of 'Cash'.
Screenshots:
Download: