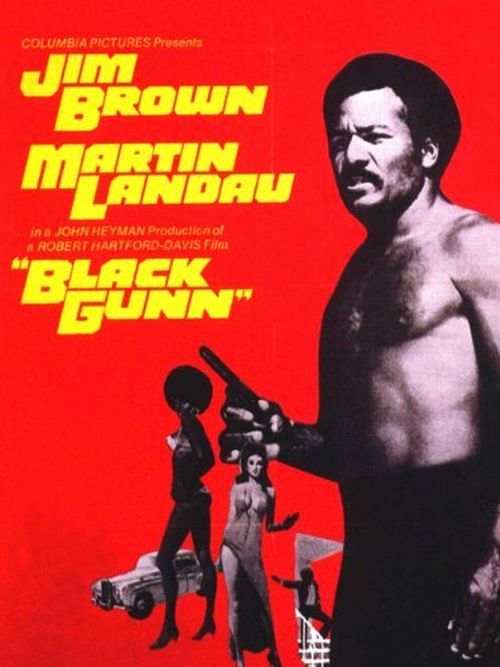 Year: 1972
Duration: 1:36:47
Directed by: Robert Hartford-Davis
Actors: Jim Brown, Martin Landau, Brenda Sykes
Language: English
Country: UK, USA

Also known as: Gunn la Gachette, Super Gunn

Description: Set in racist America, Jim Brown is a black nightclub owner who doesn't believe in complaining about how wrong things are. He is of the firm belief that financial security is the key to earning an equal space in the world.
His brother however is the polar opposite. He is part of the Black Action Group (BAG) and very militant in his approach to dealing with white gangs in particular. He soon gets into trouble with the white crime syndicate when he steals money and their ledger books and then decides to hide them in his brother's nightclub and pad.
Brown is soon left with no choice but to engage in high octane action with the crime bosses when they murder his militant brother. Car chases and heavy duty action sequences ensue.
"Brown is Mr. Gunn (no first name), suave proprietor of an exclusive nightclub housed in the lower floor of his L.A. mansion. Life is good for Gunn — business is booming and he has a foxy, devoted girlfriend. His only worry is his younger brother Scotty (Herb Jefferson Jr.), a hotheaded radical who's joined a militant Black Power revolutionary group. The shit hits the fan when the militants, who call their outfit the Black Action Group, or B.A.G., rob a Mafia-owned betting parlor to raise cash for more weapons. The Mob doesn't take too kindly to being ripped off, but what really has 'em steamed is that the B.A.G. men made off with important "business" ledgers as well. Out for blood — and to get the books back — the Don orders his newly appointed chief of West Coast operations, used car salesman Russ Capelli (Oscar winner Martin Landau of Ed Wood), to scour the black community and find out who pulled the heist. Capelli is assigned a slimy, ruthless enforcer named Kriley (Diamonds Are Forever's Bruce Glover) and a squad of goons to provide the necessary muscle."
Screenshots
Download