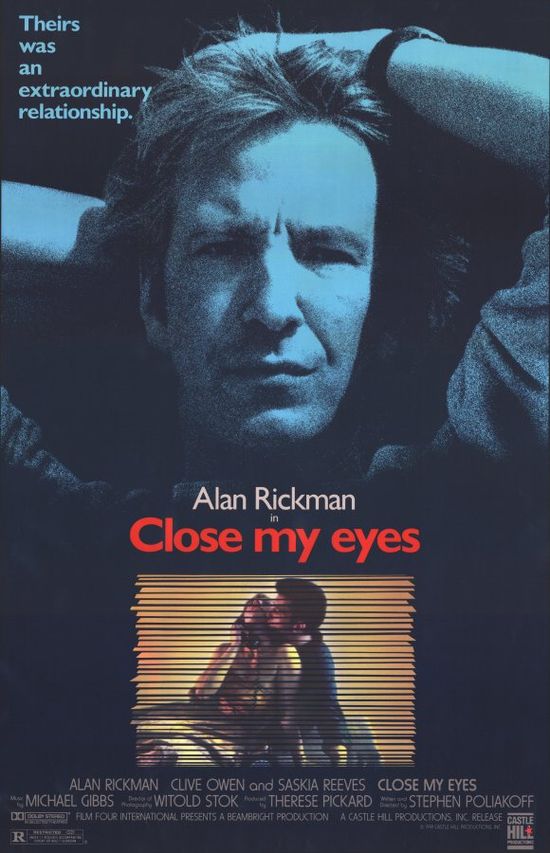 Year: 1991
Duration: 01:48:32
Directed by: Stephen Poliakoff
Actors: Alan Rickman, Clive Owen and Saskia Reeves
Language: English
Country: UK
Also known as: Com os Olhos Fechados,Con mis ojos cerrados,Kleise mou ta matia,L'amour tabou,Três Amores e uma Paixão
Description: A lonely brother and his married sister quench their burning desire in a passionate union. Sister's husband suspects her in cheating.
Review: I liked the movie … really a drama, I will not say for certain that powerful, the drama in the true sense of the word.
The relationship between a brother and sister, in a love that makes the whole movie wondering what would happen. Clive Owen is very pleased, it's great, in my opinion cope with the role of this same brother, who, after almost going crazy, chasing sister on the estates of her husband, threatening to kill him.
Well Alan Rickman … he as always on top, it is inimitable, that is to say! Naturally, he perfectly played Sainclair, husband of Natalie.
Would have been possible, would have thanked Stephen Poliakoff as a writer who did not do the typical hero Rickman deceived husband, to arrange about his wife's infidelity scandal and disassembly.
I've heard a lot about this film at the time, and one night decided to watch this movie, largely because of Clive Owen as very much like to see him very young, plus the theme of incest I was very curious, besides still It was interesting to look at Alan Rickman in a different role, I'm still very used to him as Professor Snape.
It is easy to judge from the course that incest is bad and try to sympathize with these people and try to understand them of course is very difficult, given the story of a brother fell in love with his own sister, but not easy to sister, and his sister touched me to the quick, all who played in this movie is completely surrendered to this project, I was more impressed with Clive Owen, of course this is a very grave sin by what they did for much of the film, but as they say God judge us all, do not judge and do not judge whether, in my opinion in the picture there is nothing wrong as they wrote some of the reviewers here, but it's terrible, but indicated it was just brilliant, the final scene with tears of Clive I can revise and revise it so I'm not because I'm a fan of Clive, no not at all, just feeling and emotions he gave awesome, his character is going through a real drama and very few people can understand it, because to try to understand the very need to go through something similar.
The picture though is removed for a long time already in 1991, but I was very impressed and showed us another situation that could happen in our world, there is no good, negative or positive characters, is simply showing people what could be any one of us is just life.
Clive Owen (I'll Sleep When I'm Dead and Trust), as I said played above all praise, in this film, he played as a very talented actor, or as a cool dude who wets all, but as a very sensitive young man who fell in love with his sister as a girl, and who does not want to lose it emotions and feelings of the hero Clive me were clear and easy enough to understand how his hero hurt, shame, and it is clear that he thinks it is unfair to all.
Alan Rickman was very good, he played in his sister's husband was in love hero Clive played pretty good, I especially liked him in the end, even in a shock situation, it is not broke, do not panic, but was very cool and calm.
It should be noted of course, and the female lead female role, she played a pretty cool too, even the whole cast was great.
Very original and very complex film, which not everyone can understand.
Another review A powerful drama, stunning frankness with which the problem of incest. A lonely brother and his married sister quench their burning desire in a passionate copulation. My sister's husband suspects her of infidelity. Strong direction and a great cast.
Screenshots:
Download: