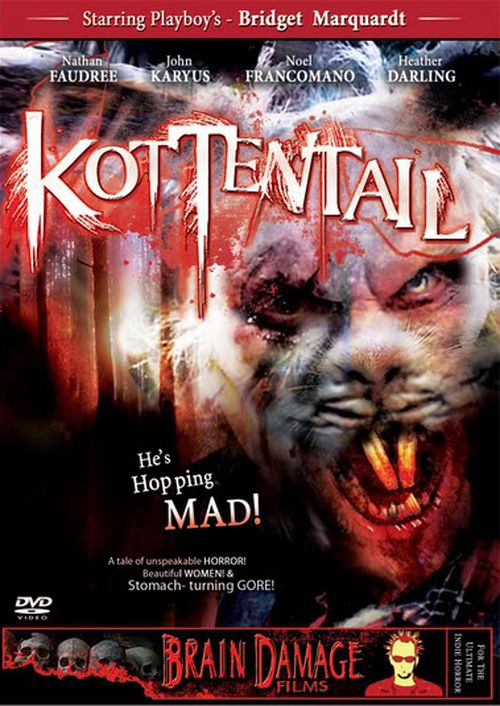 Year: 2007
Duration: 01:16:28
Directed by: Tony Urban
Actors: Bridget Marquardt, Nathan Faudree, Kristin Abbott, Patricia Bellemore
Language: English
Country: USA
Also known as: Hybrid
Description:In a secret lab today is the future. Scientist – a doctor and blond – Assistant conduct genetic experiments on rabbits. Defenders of animals making their way to the laboratory and released into the wild guinea pig , on the field where he bites farmer surnamed Kottentail. Over time, the farmer gets bad – he starts to eat carrots in large quantities , it grows two large front incisors, huge ears and little fluffy tail and sharp claws . But the worst thing that he needs to satisfy sexual desires , and he starts killing everyone. To fight the rabbit – the whole team goes girls.
Review: Maybe I do not understand much in art. When I read the description and looked at the poster , I was expecting to see some kind of low-budget picture with black humor , but …
Perhaps my whole characteristic film would fit the title of my review, but let's order .
Special Effects : None.
Assembly: probably in Windows Movie Maker.
Acting : bad.
Budget: $ 5 ( and they went to the pizza at the beginning of the film) . What can I say, even if the key character that started it all (rabbit) was a toy . Particularly pleased with the battle scene with teddy rabbit farmer and who had taken the gun out of nowhere , the girl at the end of the film , as well as mounted in this very Meykere Movie shot from a gun .
The film can be called a very horror.
Verdict: probably is someone's course work . Unfortunately , did not find sensible information about the film and its creators . Watch only if you're a fan of low-budget films or trash drank a lot . Perhaps I 'll take this film to the same category with The Taint ( 2010), but if "infect" fairly low scores , then " Kottentail" already accumulated 6 points ! Probably , the film won this assessment because rabbit costume mutant .
Screenshots:
Download: