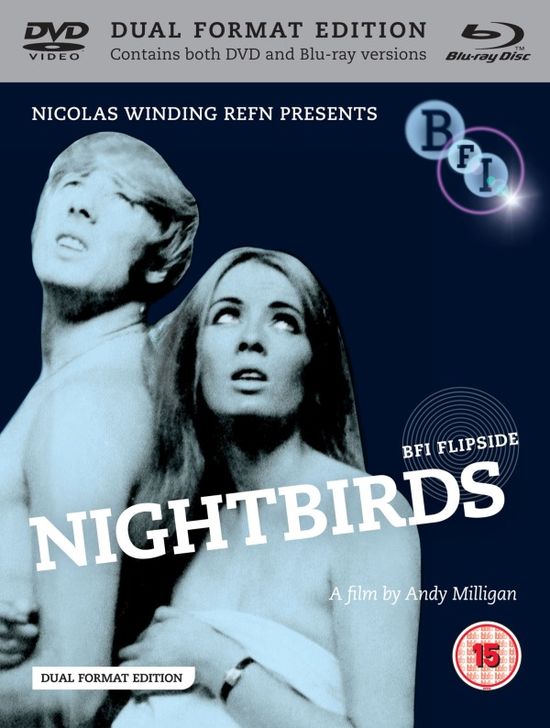 Year: 1970
Duration: 01:14:36
Directed by: Andy Milligan
Actors: Julie Shaw, Berwick Kaler, Elaine Shore
Language: English
Country: USA
Also known as: 
Description: 
1.46GB XVID OF ANDY MILLIGAN'S (director of Legacy of Blood) 1970 FILM, NIGHTBIRDS STARRING JULIE SHAW, BERWICK KALER, ELAINE SHORE, BILL CLANCY, BAY WHITE, JOHNATHAN BORKAI, FELICITY SENTENCE AND SUSAN JOYCE.
A GENUINE NUGGET OF CINEMATIC OBSCURITY, NIGHTBIRDS IS A DARK DEMENTED PIECE OF CINEMA OF THE 1960'S FLEAPIT FILMMAKER, ANDY MILLIGAN. MAINLY SHOOTING ON NEW YORK'S STATEN ISLAND, MILLIGAN WAS INVITED TO LONDON AROUND 1968 TO WEAVE HIS VAGRANT VISUAL MAGIC ON FIVE FEATURES. NIGHTBIRDS IS A DISTURBING BLACK AND WHITE PSYCHODRAMA ABOUT A POSSESSIVE WOMAN WHO SHACKS UP WITH A NAÏVE YOUNG HOMELESS MAN IN A DINGY FLAT OVERLOOKING EAST LONDON'S SPITALFIELDS MARKET (STILL THERE TODAY) THEN SUBJECTS THE POOR GUY TO EMOTIONAL AND PSYCHOLOGICAL ABUSE.
REMINISCENT OF A FRINGE THEATRE PLAY AS SHOT BY WARHOL FACTORY FAVORITE, PAUL MORRISSEY, IT'S ROUGH AND READY AND THE RAW EMOTION THE TWO LEADS BRING TO THE SCREEN MAKES FOR COMPULSIVE VIEWING.
THANKS TO DANISH DIRECTOR, NICOLAS WINDING REFN, THIS FILM (AND THE BODY BENEATH WHICH ALSO APPEARS ON THE NIGHTBIRDS BFI DVD AS AN EXTRA) HAS BEEN RESURRECTED AND DISTRIBUTED VIA BFI FOR ALL TO EXPERIENCE. CONTAINS AN AUDIO COMMMENTARY TRACK WITH BERWICK KALER (2001) IN CONVERSATION WIITH FILM EXPERT STEPHEN THROWER.
Review:
Screenshots:
Download: