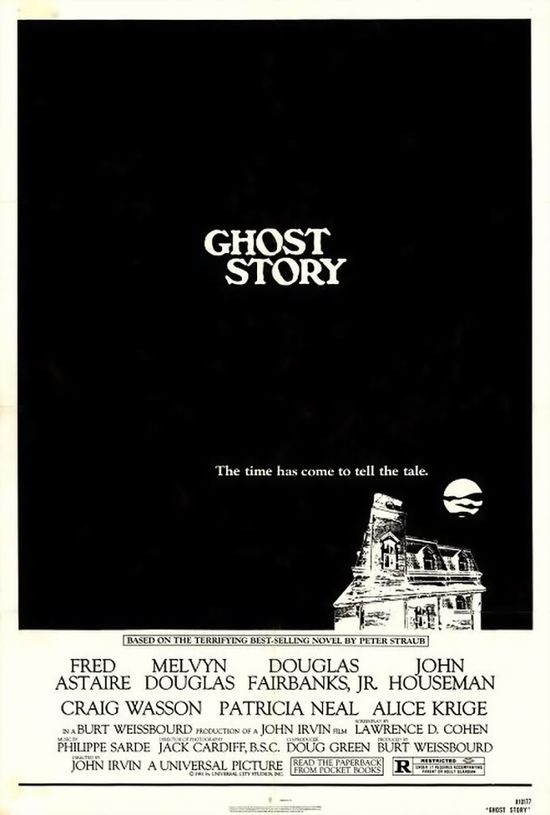 Year: 1981
Duration: 01:50:48
Directed by: John Irvin
Actors:  Craig Wasson, Alice Krige, Fred Astaire
Language: English
Country: USA
Also known as: Cuento de fantasmas, Historias de fantasmas, Histórias de Fantasmas, Le fantome de Milburn, Vild opstandelse, Historia macabra, Kummitusjuttu, Spökhistorien, Le fantôme de Milburn, Szellemjárás, Storie di fantasmi, Cuento de fantasmas, Gjenferdet, Opowiesci o duchach, Fantasma do Passado, Rache aus dem Reich der Toten, Zurück bleibt die Angst
Description: What is required in order to scare real? Gloomy house in New England, the dark night, howling wind and four people from the so-called "Chowder Society", where it is assumed to entertain each other scary stories.
But this time adventurers to face with the real horror from which there is no escape – the horror that came from the past, to take their lives …
Review: One of cinema directions whom I miss today – good ghost story ( "good" in the sense of good-quality , strong, well-organized ) . Now, most horror films tell us very unpretentious stories about zombies and viruses , and slightly fewer talks about romantic vampire love , well, we, of course , do not forget about the degeneration of youth slashers . Well, passion muvimeykerov these topics is understandable fashion dictates its own laws , it suffices to recall how at the turn of the century has increased in popularity movies about Satan and of the world.
But the so-called ghost stories from time to time appeared and then went the distance, but never had the studio did not let them in such low amounts disgusting as it is now .
I like a man in the subject, never miss a good ghost story , though classically Gothic castle and the old creaking floorboards at night , even though postmodern man-made , such as " Pulse ".
The film "Opowiesci o duchach" – is a classic ghost story with all the necessary attributes to her .
Here we have four oldies lovers listen and show horror stories , which, however, after their strange amusements nightmares . And then they start quite inexplicably die.
Actually, after that amount kinohorrora that I revised , this movie seems to be pretty predictable. That is, once it is clear that for a malicious ghost haunts oldies but qualitatively this classic formulation of these things did not detract . Only now there is no obviously correct voltage and everything . And the effects can be considered slightly outdated. But, however, all these shortcomings , so to speak , for an amateur . Since this is nothing to prevent an amateur enjoy true privedencheskoy history.
And maybe someone will be curious to see the old- Fred Astor or very young Alice Krige ( "Silent Hill" ) .
I think you should enjoy this story , even today it seems not too gothic and mysterious.
Screenshots:
Download: