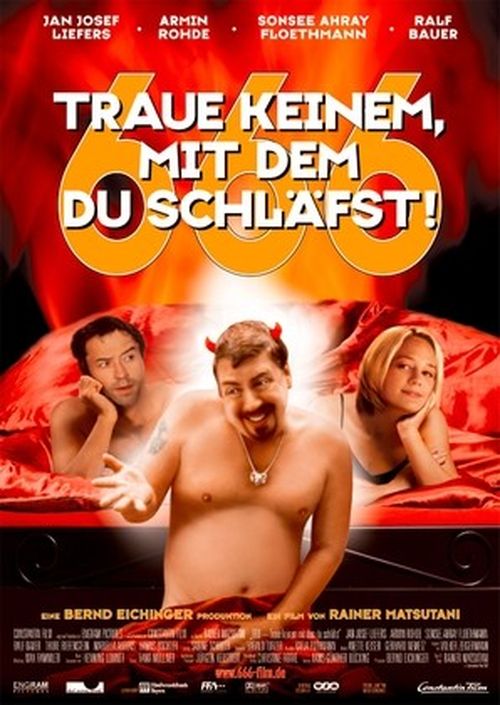 Year: 2002
Duration: 01:21:14
Directed by: Rainer Matsutani
Actors: Jan Josef Liefers, Armin Rohde, Sonsee Neu
Language: German (English subs)

Country: Germany
Also known as: 666 – Traue keinem, mit dem Du schläfst!, Ördögi ágyasok ,666: In Bed with the Devil, Die Satansbraten oder: Trau keinem, mit dem Du schläfst, Faust e Mephisto, Faust und Mephisto
Description: Frank Faust, a promising young architect student, moonlighting as a taxi driver in his spare time, is quite satisfied with his life. But suddenly everything changes: he gets drunk at a party and flirting with a strange girl, so his girlfriend Jennifer – and without that distracting by Frank – runs off with another guy.
In addition, Frank ran out of money, and he had taken a taxi. What is to the poor guy? Of course, to commit a suicide. But it turns out, this is not included in the plans of Devil (after Frank descendant of Dr. Faustus himself!). And in the course of events interferes Mephistopheles, the son of Satan.
He goes into a contract with Frank and puts in use his "evil things" overnight makes Frank a successful man, a famous architect, a tireless lover. Jennifer shocked and ready to go back to Frank. But it's not like Mephistopheles – he managed to fall in love himself into his "client." And here it intervenes himself Lord of Hell, Satan himself. So why would not deal with the Devil?
Review: The existence of this film "666: In Bed with the Devil", I had no idea until then, until I got to the right channel at the right time. Heard the name, and lit up look without looking at it like I'm in an apartment with a friend (who begged to switch to another channel, which began "Supernatural").
Without a word, I stared at the screen, and then … then turned her first girlfriend at the temple, and then rushed to the kitchen for a soothing, because I plopped the chair and whined laughing, crawling on the floor. Okay, it was a lyric .. more precisely, it is not a digression. We now turn to the core.
Poor old Frank – a typical representative of the race losers, decides to commit suicide – the standard is essentially the story, and further is Mephistopheles in all its, um, glory. If you thought that the son of Satan – is a charming gothic boy aka Omen – nothing to think. I thought so too, but as she saw true colors Mephisto … my dumalka disconnected. Frank has apparently she also turned off (he clearly imagined son prYnts Gothic Devil) and the loser made a deal, thereby committing a sharp turn in his life. Even the most beloved back, but decided to own a reptile Mephistopheles .. khmm, sirloin risk, literally: without hesitation, he took the form of Jennifer and showed up to Frank. You can guess how it ended?) More – more. Frank is trying to improve relations with the beloved, and offended, humiliated and insulted in every way that prevents Mephisto, though in ways …
The ending killed me like unto a check in the head. If the opposite of stereotypes, son of Mills – it's flowers, the berries have appeared where they were not expected. Most did not speak – it's a must see!
As for the game of actors and others, say at once – this film does not claim any prizes, but to distract and cheer up – the most it! If you are not a fan of German vulgar humor – I do not advise you to watch, because this humor with all his platitudes there is more than enough. Just started to watch a movie after all – mandatory inspection to the end. Viewing is recommended in the company of friends and bottles of beer. Pay special attention to the end – I promise, falling off the couch you provided (not drench friends beer 🙂
Screenshots:
Download: