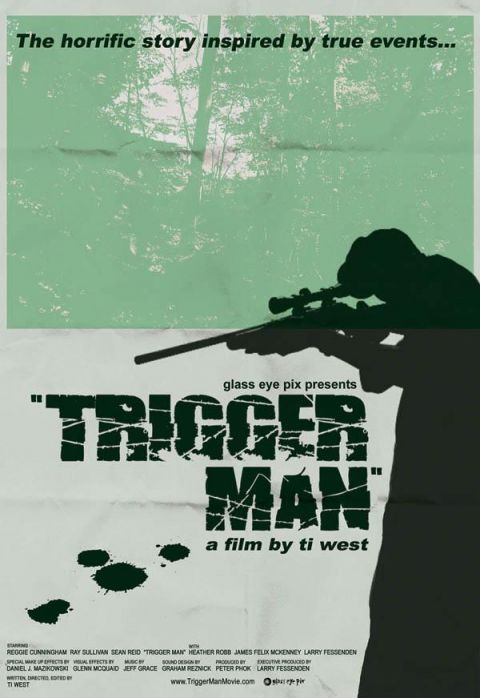 Year: 2007
Duration: 1:20:10
Directed by: Ti West
Actors: Reggie Cunningham, Ray Sullivan, Sean Reid, Heather Robb, James Felix McKenney, Larry Fessenden, Daniel Mazikowski, Seth Abrams, Graham Reznick
Language: English
Country: USA
Also known as: Trigger Man – Der Scharfschütze, Tetikçiler
Description: Reggae, Sean and ray one day travel from Manhattan to hunt deer, drink beer and feel free from the responsibilities that every day more and more separated childhood friends from each other. Then after one shot trip turns into a desperate struggle for survival.
Magnificent Thriller. Ti West keeps the audience literally in constant tension, not allowing to relax for a minute, makes you freeze in anticipation of each next frame, the resulting emotions from viewing of the tape Trigger Man awesome. That's really really "want something done, do it yourself" so Ti West and took as much as 4 chairs Director/producer/writer/operator. This not only saved the small budget of the film, but mainly allowed to more efficiently transfer the image out of your head onto the screen, 4 different people it would have been a lot worse. If it claims to work in any of the 4 seats there, all done professionally at a high level.
There is no doubt that Ti West is a genius, his talent is comparable to Hitchcock, by the way Ti West was born in 1980 and earlier in the same year died Hitchcock, it's tempting to think, not whether rebirth is the great Creator? In any case, the reason to put it there, watch Trigger Man, convinced personally.
In our time, these films are especially valuable when the screens and the minds of the masses seized the Hollywood and anime, alas for the same reasons, don't be surprised negative comments and ratings.
Screenshots:
Download: