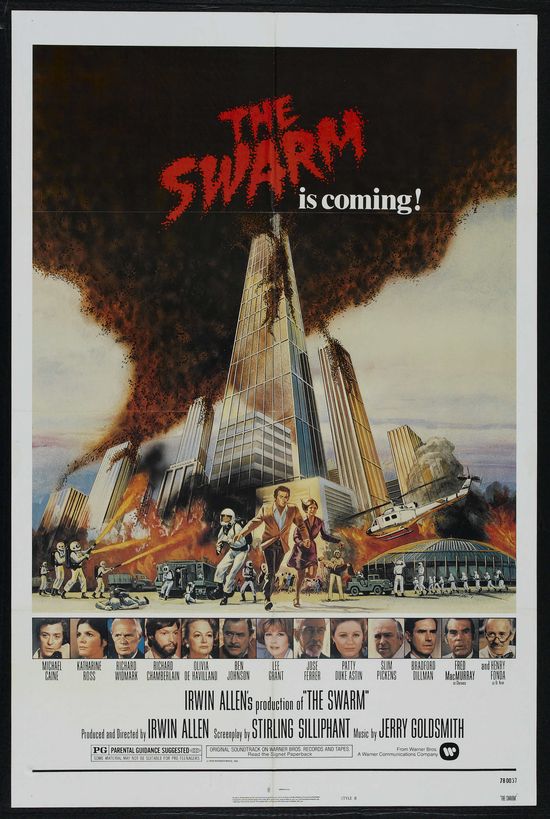 Year: 1978
Duration: 02:35:07
Directed by: Irwin Allen
Actors: Michael Caine, Katharine Ross, Richard Widmark, Richard Chamberlain and Olivia de Havilland,
Language: English
Country: USA
Also known as: El enjambre, O Enxame, Suwômu, Svermen
Description of The Swarm movie: At the headquarters of the Air Force U.S. East Coast enters the alarm with one of the bases located in Texas, near the town of Morrisville . To clarify the situation, the base sent a detachment led by General Slater . Arrivals are all military officers dead , still alive , only one person – an entomologist Bradford Crane. He tells the military that the entire staff was killed by African killer bees swarm that attacked the base. General Slater did not believe Crane and contacted headquarters , where at the highest level , to his great surprise and dismay , was ordered to provide all possible assistance to Crane .
Meanwhile, in the vicinity of Morrisville from bee stings people began to die . It becomes clear that the city lies in the path of the deadly swarm that with the speed of an express train heading in the direction of Houston , killing every living thing in its path. Crain unites the efforts of his friends scientists – Dr. Krim and Dr. Hyubbarda and skeptical military , among whom he is suddenly ally – physician Helena Anderson, in an attempt to stop and destroy the swarm of bees .
Screenshots:
Download: