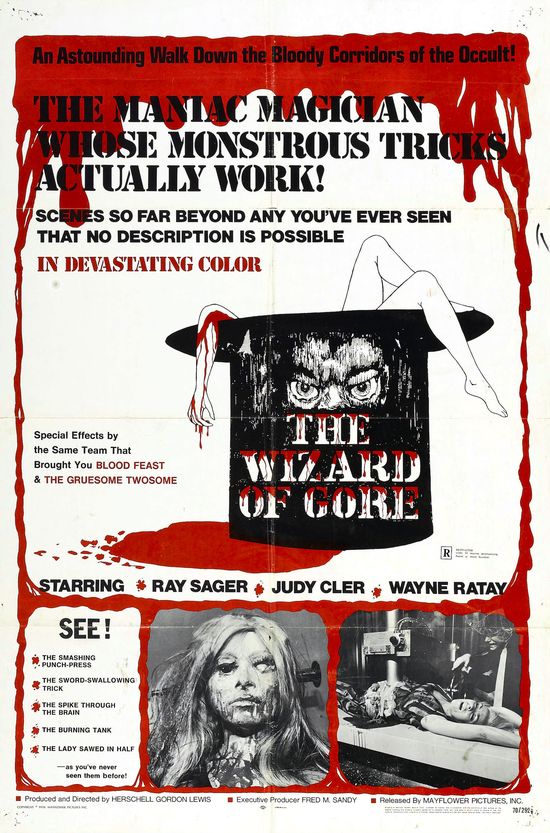 Year: 1970
Duration: 01:35:04
Directed by: Herschell Gordon Lewis
Actors: Ray Sager, Judy Cler and Wayne Ratay
Language: English
Country: USA
Also known as: 
Description: A magician performs a show where he selects a female volunteer and appears to put swords, drills, and such through them. They walk away and everyone applauds, then they show up somewhere else, dead of the same injuries they sustained in the magic show. Police are baffled and can't tie the murders to the magician. A man whose girlfriend is infatuated with the show begins to investigate on his own.
In my opinion, this is The Wizard of Gore is a good film for it's genre. The seedy atmosphere, garish colors, terrible acting, and quantity-over-quality gore effects combine to create a genuinely creepy, unsettling atmosphere. Ray Sager is a stupendous ham, and the glazed-over supporting cast read blankly off the cue cards to convey the dazed, hypnotized state the characters are supposed to have. Enjoy the watching!
What does The Wizard of Gore include:
The Smashing Punch-Press
The Sword-Swallowing Trick
The Spike Through the Brain
The Burning Tank
The Lady Sawed in Half
Small review: Overall, I find this to be an extremely fascinating experience. I don't know if it's because of some of the director's touches, the photography, Crispin Glover's exasperated way of acting or just the decadence that seems to permeate the whole thing, but this movie is still crawling deep under my skin.
Screenshots:
Download: