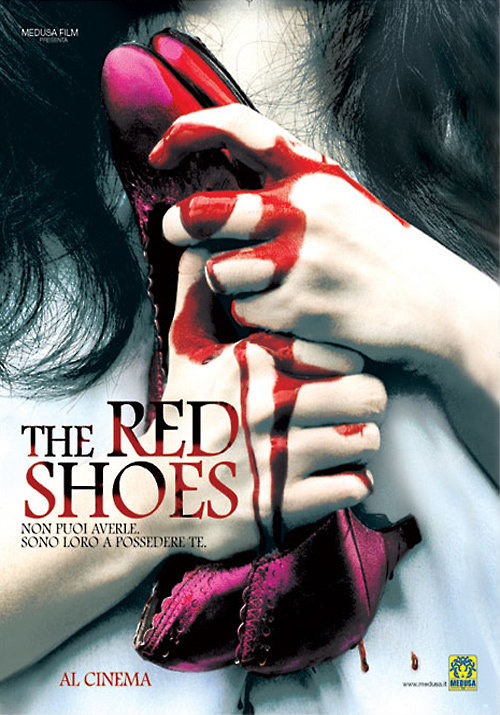 Year: 2005
Duration: 01:48:00
Directed by: Yong-gyun Kim
Actors: Hye-su Kim, Seong-su Kim, Yeon-ah Park 
Language: Korean(English subtitles)
Country: South Korea
Also known as: Bunhongsin, Kanli ayakkabilar
Description: The film could have on the whole very like it, if only the idea implemented better.
The name of the film " The Red Shoes " hints at a certain grace , a children's naivety and innocence in all its glory . Here there are red ( the color of blood , the color of passion ) , and shoes – something original and distinctive, even fabulous . However , whether the filmmakers , or the names of the translators had a clear color blind , because the shoes were not red , but rather a nice pink color , and shoes shoes -that was not at all … But it's so digression.
The film became a surprise in its own right from the beginning . I will not go into the details of human needs , or mysticism , which can give rise to this need , but it looks strange that because someone tossed a pair of shoes suddenly for no apparent reason girls start to fight.
Almost the entire film rests on what is happening in the world of the protagonist. Problems of her personal life as a movie prop to me to be too tedious . Proceeding by such scraps that look was not interested, bored. This viewer ( me) could not be interested .
Do not like the fact that part of the film ( if not too large) was given extra dialogue or something like roll call , when her daughter calls her mother and her mother 's daughter .
If we talk about the pros , it is, of course, the story itself slipper (sorry , shoes ) . And it was much more interesting than what was happening with the real-life heroes . But here, the creators of this story as if there was a separate short episode , which was shown just to somehow explain the mystique of shoes. And I would like to highlight an interesting moment in the shoes was not the end … But this episode was , unfortunately, fleeting , so the end of the movie a disappointment, too.
For all this, the film can not put a high score. It was hoped that get pleasure from watching . But the film as a result was rather boring, with lyapami and stamps , and places of interest in it was very , very small.
Screenshots:
Download: