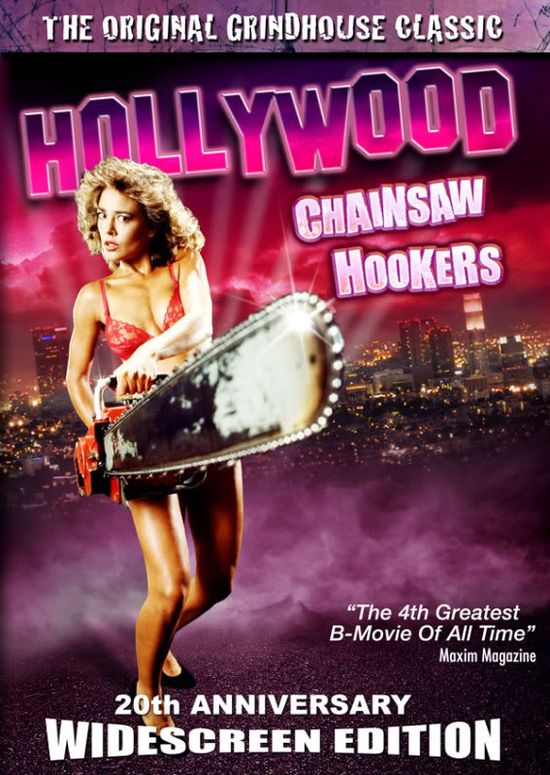 Year: 1988
Duration: 01:14:40
Directed by: Fred Olen Ray

Actors: Gunnar Hansen, Linnea Quigley, Jay Richardson, Dawn Wildsmith and Michelle Bauer
Language: English
Country: USA
Also known as: Hollywood Hookers, Hollywoodzkie prostytutki z mechanicznymi pilami, Mit Motorsägen spaßt man nicht, O Massacre da Serra Elétrica 3 – O Massacre Final
Description: Leading the search for the missing girl, a private detective finds a secret religious sect composed of hookers armed with chainsaws.
Review: To understand this film initially recommend it purely for viewing only avid fans of thrash. Only does it not a sentence on my part, but only a clear definition of a known audience. For others it will be boring, affectation and most importantly – unthinkable in the structure idiotic storyline. But, just for a certain number of viewers these listed ingredients and is worth a rare product of that name by which it is simply impossible to pass – "Hollywood Chainsaw Hookers"
Of course, no matter how improbable would not be the skeleton of the plot, it enliven people, then there are actors. In this case, even though the film is very much cheaper, but the director was able to gather it famous (for its "inferior" hierarchy) people. The first is – Gunnar Hansen, who has a controversial reputation by playing in the cult opus Hooper's "The Texas Chainsaw Massacre" as "leather face", eternally covered with a mask. Second was Jay Richardson – He has a lot of acting work in the trash (Bikini Chain Gang). Next – Linnea Quigley (Kidnapped Girls Agency), it can be called a cult "scream queen and nudity", because it has played in the independent or inexpensive horror always the same type of role, which will dance naked and rivers of blood, to recall the "Return of the Living Dead," Dan O'Bannon, or "Night of the Demons" by Kevin Tenney. And now she would dance in a negligee, especially the central ritual with two smoking chainsaws.
Screenshots:
Download: