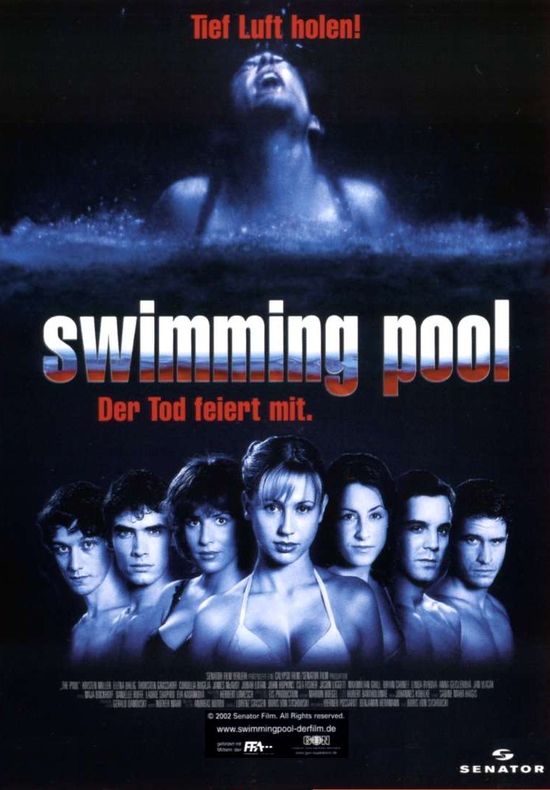 Year: 2001

Duration: 01:31:38
Directed by: Boris von Sychowski
Actors: Kristen Miller, Elena Uhlig, Paul Grasshoff
Language: English
Country: Germany

Also known as: Swimming Pool – Der Tod feiert mit (original title);  Un grito bajo el agua; Swimming pool: la piscine du danger; Basen; To party tou tromou
Description: German youth horror film "swimming Pool" is one of the most notorious and really decent movies lately. Movies my forever favourite genre of "slasher". And, most pleasing to me that he is in the best traditions of "old school". Here everything is competently played, sent and… killed.
By the way, about the murders in this film. They pleased. Death is quite eye-catching, memorable, moderately bloody, though, it seems to me that the blood in this movie was extremely small. Oh well.
Maniac also pleasantly surprised. What I appreciate in kinomaniak? A terrifying mask (although there may be exceptions – such masterpieces as "the Axe" and "see No evil"), costume and some piercing-cutting subject in hand. It is desirable, greater. It's all there in this horror. Incredibly successful maniac, in a stunning form-fitting black suit and stunning white mask – skull. With a machete. Very impressive looks.
Heroes was pleased, though, they whole movie drink, have sex and have fun. There is only one normal storyline associated with a fear of water from the protagonist. From the title theme of the film (pool) should the presence of nudity. She too pleased. Most importantly, such moments do not need to overdo it. The authors of the film have coped with this task.
Directing is quite suitable, artistic decoration on top (it turns out that hot spots can be in the pool), the music is not "lame". It is perfectly matched to the action.
The film "swimming Pool" – German, which suggests that a good slasher can shoot and outside their homeland, America.
Review:
Screenshots:
Download: